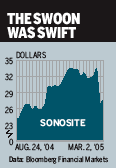 There are few CEOs like Kevin Goodwin, who boasts that his company leaves General Electric (GE ) in the dust. SonoSite (SONO ) is way ahead of GE -- in handheld products for ultrasound imaging. With 60% of the portable market, SonoSite is No. 1. While GE is tops in big ultrasound gear, it has only 30% of the market in handhelds. Although SonoSite's handhelds are used by hospitals (70% of sales) -- and in U.S. military hospitals in Iraq and Afghanistan -- sales in 2005 are expected to total just $144 million. It's a $200 million market -- but not for long, argues CEO Goodwin, who says a new hand-carried ultrasound will be launched in the spring. This device will match if not exceed the quality of big systems, beat them on price, and cut into their market, he says. When Goodwin told analysts in a recent conference call that SonoSite was spending a big share of its revenues on the new product, its stock swooned, from 33 in mid-February to 26 in two days. It has since inched up to 27.82 on Mar. 2. "The prospects for Sono's handhelds will greatly expand when the new machines come on the market," says Charles Reid, a partner at Brown Advisory, which currently holds a 7.7% stake. It will be the key, he adds, to driving up sales and fattening the operating margins. Reid sees the stock climbing to more than 50 in two years. Reid forecasts SonoSite earnings of 40 cents a share in 2005 and 80 cents or better in 2006, up from 27 cents in 2004.
Note: Unless otherwise noted, neither the sources cited in Inside Wall Street nor their firms hold positions in the stocks under discussion. Similarly, they have no investment banking or other financial relationships with them.
By Gene G. Marcial
Before it's here, it's on the Bloomberg Terminal.
LEARN MORE