Money From Home
Raising dough from friends and family
Those who say business isn't personal haven't seen the latest research from William D. Bygrave, a professor of entrepreneurship at Babson College. Bygrave recently surveyed 23,000 U.S. adults on their investing habits. His finding: Nonprofessional investors have a startlingly important role in funding startups. In 2003, the most recent year for which data are available, so-called informal investors doled out $108 billion to new companies. That figure -- nearly 1% of gross domestic product -- dwarfs venture-capital outlays of about $18.4 billion that same year.
In fact, Bygrave estimates that 90% of all startups receive so-called friends-and-family money and that up to 5% of adults have contributed seed money for a new business. The median investment is just $1,667, but the average is much higher, at $10,000. "There is plenty of informal capital around for those companies that deserve it," says Bygrave.
How to find it? Well, men are twice as likely to give as women, and younger folks are slightly more likely to invest than those over 45 (though older people tend to dish out more). More than 50% of informal investors gave to close relatives, while 34.6% helped friends or colleagues. Almost 10% invested in companies led by people they didn't know firsthand.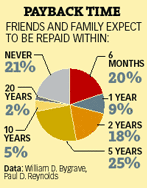 For investors, informal deals can be more satisfying than highly structured ones. William H. Payne, a 25-year veteran of professional angel investing, has also seeded startups led by friends and family. Even after losing the $5,000 he put into a friend's Internet company in the late 1990s, Payne says, "I feel a little stronger affection for [friends-and-family investments]. I don't feel nearly as engaged" in more formal transactions.
Of course, mixing business with personal relationships comes with its share of potential pitfalls. If Grandma chips in 10% of the seed money, does she get 10% of the company if it goes public? And for every success, there are plenty of businesses started with family cash that don't succeed. Yet almost 80% of Bygrave's informal investors expected to be repaid eventually, and nearly half expected their money back within two years. That's why it's especially important to make sure expectations among all parties are clear and that they're committed to paper. Best to admit that you may not turn out to be the next Bill Gates -- hard as that may be for your mother to believe.
By Brian Hindo
Before it's here, it's on the Bloomberg Terminal.
LEARN MORE