Mexico: It's Hot South Of The Border
Fueled by high oil prices, rising exports, and positive developments at home, Mexico's economy is growing at its fastest pace in five years.
In 2004 real gross domestic product expanded by 4%, the strongest growth since 2000, when the U.S. tech boom contributed to a 6.6% surge in Mexico's economy. Economists say Mexico could grow by as much as 4.5% this year.
A healthier U.S. economy is lifting exports. The maquiladoras, Mexico's for-export-only factories, increased production by 24% over the year ended in November and added 84,000 jobs. Mexico's total industrial output in December was up 3.8% from a year ago.
In addition, domestic demand is rising. Consumer credit is expanding because of increasing competition among mostly foreign-owned banks in Mexico, which are aggressively marketing credit cards and auto loans. Last year Mexicans bought a record 1.1 million vehicles.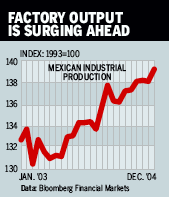 Consumer demand also got a boost from a record $16.6 billion sent home by millions of Mexican workers in the U.S., a 24% rise over 2003. Such remittances are now the country's second-largest source of foreign funds after oil exports. Reflecting the positive economic data, the Mexican stock exchange is up around 6% so far this year, and 36% over the past 12 months.
Despite solid demand growth, inflation, which last year slightly exceeded the government's target of 4%, may be slowing: Consumer prices did not increase at all in January, thanks to a drop in key farm products such as tomatoes.
Meanwhile, a 27% jump in oil revenues has boosted the country's international reserves to around $62 billion. That extra revenue, along with the Mexican government's prudent spending patterns, should allow the country to keep its fiscal 2005 deficit at a manageable 0.22% of GDP. And investment-grade-rated Mexico tapped low U.S. interest rates last year to refinance much of the debt falling due over the next two years. That move could be helpful in 2006, just in case the upcoming presidential elections contain any surprises or spark political unrest that might make investors jittery.
By Geri Smith in Mexico City
Before it's here, it's on the Bloomberg Terminal.
LEARN MORE