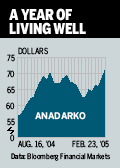 How high will the oils go? They have been on a rampage, with the S&P Composite 1500 Energy Index up 15.5% so far this year vs. a 0.8% fall by the S&P 500-stock index. Some experts, including Fadel Gheit, oil guru at Oppenheimer & Co., figure that oil stocks are still way undervalued, based not only on the rising prices (crude topped $51 a barrel on Feb.22) but on proven reserves. And the industry, he asserts, is "ripe for mergers."
Charles LaPorta of Standard & Poor's is also upbeat. He says the group will earn "superior returns on capital" as a result of tight supplies and lofty prices. Adds Gheit: The oil majors are "now making more money than they can spend and are not exploring for oil -- and that spells consolidation." Topping his list of buyout targets is Anadarko Petroleum (APC ), a large oil-and-gas explorer and producer operating in Alaska, Louisiana, the Gulf of Mexico, the Rocky Mountains, and Texas. Its stock has soared from 49 a year ago to 70.78 on Feb. 23. Most deals in the industry are done at an average price of $12 a barrel, Gheit notes, so he values Anadarko's 2.4 billion barrels of reserves at $28.28 billion, or 117 a share. Gheit says Anadarko is "being courted by several deep-pocket majors," which he declines to name. Anadarko is trading at nine times his estimated 2005 earnings of $7.74 a share, vs. 2004's $6.36, and five times his 2005 cash-flow estimate of $14 a share. David Heikkinen of Hibernia Southcoast Capital recently upped Anadarko from hold to buy. Anadarko declined comment.
Note: Unless otherwise noted, neither the sources cited in Inside Wall Street nor their firms hold positions in the stocks under discussion. Similarly, they have no investment banking or other financial relationships with them.
By Gene G. Marcial
Before it's here, it's on the Bloomberg Terminal.
LEARN MORE