Putting Steel In Ikon's Spine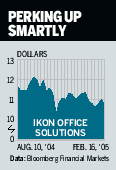 Steel Partners has a history of buying big stakes in companies, pushing to maximize their value, and then putting them in play. Early in 2003, Steel Partners was featured in this column after taking a 29% stake in EEC International. By August of that year, EEC had been acquired by Cubic (CUB ). Steel's latest buy: Ikon Office Solutions (IKN ), in which it has acquired a 5.4% interest. Ikon is the No. 1 independent distributor of copiers and printers -- from Canon (CAJ ), Hewlett-Packard (HPQ ), Ricoh (RICOY ), and Konica Minolta.
In its filing with the Securities & Exchange Commission, Steel Partners explained that, with Ikon so undervalued, it may seek board seats, buy additional shares, and propose ways to boost earnings. Matthew Troy of Smith Barney (C ) sees Ikon earning 65 cents a share in the year ending Sept. 30, 2005, and 85 cents in 2006, vs. 72 cents in 2004. Now at 10.71 (book value is 10), Ikon is worth 15, says a New York hedge-fund manager who owns shares.
Note: Unless otherwise noted, neither the sources cited in Inside Wall Street nor their firms hold positions in the stocks under discussion. Similarly, they have no investment banking or other financial relationships with them.
By Gene G. Marcial
Before it's here, it's on the Bloomberg Terminal.
LEARN MORE