Japan: Quick, Start The Business Rally
Will the business sector save the Japanese recovery? That's the question after the economy shrank unexpectedly in the fourth quarter.
Real gross domestic product fell at an annual rate of 0.5% last quarter, the third decline in output in a row. A drop in consumer demand and a worsening in net exports caused the decline. But weather very likely held down the spending figures. Japan was hit by three major tropical storms from October to December, and temperatures were unseasonably warm at yearend, holding back demand for winter items.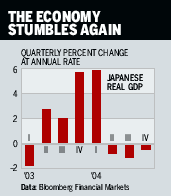 Economists expect household spending to rebound in the first quarter, especially since the job markets are improving. The ratio of jobs to applicants rose to .94 in December, from .77 a year earlier. And December's unemployment rate was 4.4%, down from 4.9% at the end of 2003.
However, the real key to generating momentum lies with the business sector. The one bright spot in the GDP report was a 2.8% annual rate gain in capital investment. And new orders for machinery were up strongly last quarter, suggesting spending will keep rising in 2005.
Business can fuel growth, as well as keep the job markets improving, because companies are sitting on lots of cash. According to Ministry of Finance data, operating profits rose at an annual rate of 54% in the second quarter of 2004 and a further 26% in the third. In addition, the latest Tankan report showed that enterprises were more upbeat in the fourth quarter compared to the third on their readings for sales and profits.
As has happened before, revisions could wipe out the GDP drop. But that doesn't mean the outlook is free and clear. First, the expected pickup in 2005 exports -- which account for 10% of GDP -- depends on a rebound in overall global growth. But the latest bad economic news from the euro zone, as well as the yen's continued strength against the U.S. dollar, raises questions about such optimism. Second, the Bank of Japan has begun to signal a possible early start to tighter monetary policy. So while news of the recovery's death may be premature, the Japanese economy still faces some risks to growth.
By James C. Cooper & Kathleen Madigan
With Ian Rowley in Tokyo
Before it's here, it's on the Bloomberg Terminal.
LEARN MORE