Germany: For Consumers, Still Little Relief
German manufacturers are getting busier as demand picks up at home and abroad. But the revival in industrial activity is unlikely to do much for the labor market or consumer spending, leaving the economy to hobble along again this year.
After surges in oil prices and the euro led to a slowdown in the second half of 2004, demand appears to be coming back. In December industrial production increased by 1.2%, while factory orders swelled by 7.1%. New orders from abroad rose 5.3%. At the same time, domestic orders surged by 8.8%. The gains may be an early sign that German companies are taking part in the global upswing in capital investment.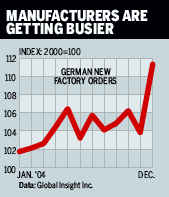 But companies remain hesitant to add workers, especially in higher-paying industries. In January, unemployment rose by 227,000. A big reason for the jump was a change in labor laws at the start of 2005 that pushes unemployed persons who weren't looking for jobs -- and therefore weren't counted -- to start looking if they are able to work. Even excluding that shift, the labor market is weak, and chances of a drastic improvement anytime soon appear slim. The number of available jobs did rise by 16,000 in January, but many new positions are of the low-wage variety.
Those who are employed are unlikely to see their pay rise substantially. In 2004, German employers clamped down on wages and extracted greater work time flexibility and other concessions from workers, and they are expected to do more of the same this year. Commerzbank (CRZBY ) expects wage settlements will yield raises of 1.5% to 2.5%, along with concessions in bonus and overtime pay. Overall, compensation gains may barely top inflation, currently running at a yearly pace of 1.7%.
Adjustments in the labor market should help German businesses become more competitive and, over time, help produce more jobs. But the short-term pain will be borne by households. Indeed, January retail sales were down 0.3%, the third decline in four months. For that reason, economic growth will remain unbalanced and among the weakest in the euro zone over 2005.
By James Mehring in New York
Before it's here, it's on the Bloomberg Terminal.
LEARN MORE