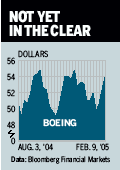 Aerospace giant Boeing (BA ) has been struggling to gain altitude since September when it was at 55 a share; it's now at 54. Although the No. 2 commercial jet maker posted improved fourth-quarter earnings, the Street remains unimpressed. The slack in orders from the big airlines, tougher competition from No. 1 Airbus, and lukewarm growth in defense spending are weighing down the stock. But some investors see Boeing as a compelling buy.
"In 18 months, Boeing will be flying high in the commercial planes market [40% of sales], when we see a strong flow of orders" from Asian and Mideast carriers, says Gordon Fowler, chief investment officer at Glenmede Trust, which owns shares in its $15 billion portfolio. China, India, and Japan are ready for new aircraft, he says, as well as Saudi Arabia and the United Arab Emirates. Peter Zuleba III, senior portfolio manager at Glenmede, says investors have yet to focus on Boeing's lush free cash flow (operating cash less capital expenditures) and operating profit margins.
Free cash flow of $2.1 billion in 2004 should jump to $3.5 billion in 2005, says Zuleba, who sees Boeing easily hitting 60 by yearend. Operating margins, he expects, will rise to 6.5% in 2005 and to 7.5% in 2006, up from 2004's 3.6%. Byron Callan of Merrill Lynch (MER ) (it did banking for Boeing), although neutral on the stock, expects a 28% jump in 2006 profits, to $3.40 a share, from $2.65 a share this year. He agrees cash flow is Boeing's strong suit.
Note: Unless otherwise noted, neither the sources cited in Inside Wall Street nor their firms hold positions in the stocks under discussion. Similarly, they have no investment banking or other financial relationships with them.
By Gene G. Marcial
Before it's here, it's on the Bloomberg Terminal.
LEARN MORE