U.S.: The Fed: Trying To Shift Into Neutral
Unfortunately, no one knows the rate that neither helps nor hinders growth
To the surprise of no one, the Federal Reserve raised interest rates again on Feb. 2 after its two-day meeting to discuss monetary policy. And the Fed offered nothing to change the current broad expectation that it will continue its self-described "measured pace" of hiking rates by a quarter-point at each of the next three meetings scheduled for the first half of 2005.
But after that, the Fed will have to confront two major questions about its goals for monetary policy: What policy rate constitutes a neutral rate, which neither helps nor hinders growth? And when might the Fed have to move policy into the restrictive zone, raising rates so that economic activity begins to feel the pinch, in an effort to preempt building inflation pressures?
To be sure, this is not the typical course of rate-hiking. Usually by the fourth year of expansion, the Fed is raising rates in an effort to choke off budding price pressures resulting from superhot demand, overextended factories, and tight job markets. But the latest data on real gross domestic product, labor costs, and factory activity show no signs of an overheating economy or rising wages.
Moreover, the financial markets have not reacted badly to the rate hikes. That's partly because policymakers have telegraphed their intentions with extraordinary clarity. As a result, investors and traders have been fully prepared for each of the six bump-ups in rates since June, 2004. The central bank's Feb. 2 policy statement contained the same language used after the last meeting on Dec. 14. And with little change in Fed thinking, the financial markets' reaction was muted.
If all goes as expected, by June 30 the Fed will have lifted the federal funds rate to 3.25%, and the bulk of the work in getting to neutral will be done. At that point, the Fed may feel comfortable enough to take a break from rate-hiking to assess the success of their efforts.
THE PROBLEM for the Fed: No one knows for sure what constitutes a neutral funds rate. Economists generally give a target of 3.5% to 4%, but those estimates are usually based on historical averages. In today's economy, the neutral rate may even be higher than in the past. Given that a high-productivity economy generally offers higher rates of return, interest rates across the board can be higher without exerting a drag on the economy. Plus, the current slower rate of job growth means the economy can grow much faster without generating price pressures.
In fact, the Fed will know it has reached neutrality not by hitting a specific rate, but by observing economic and inflation trends. To that end, the bank's primary focus, as always, will be the job markets. Inflation pressures come mostly from the cost side, and businesses' biggest costs come from labor. The latest report on employment costs was Fed-friendly. Total compensation rose a less-than-expected 0.7% in the fourth quarter over the third. For all of 2004, total wages, salaries, and benefits rose 3.7%.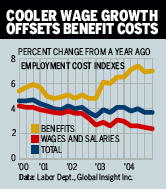 Wages and salaries alone grew just 2.4% last year, the smallest annual advance in the 24 years that the Labor Dept. has compiled records. Some of the slowdown probably reflects companies' efforts to offset higher benefit costs. Benefits jumped 6.9% in 2004, the biggest yearly gain since 1983.
Benefits were rising even faster in mid-2004, but a deceleration in health-care costs slowed growth for all bennies. Labor cautioned, however, that the data may be understating health costs because they do not capture cases where employees have to pay a larger share of medical expenses.
EVEN SO, the overall slowdown in compensation means that labor costs are not ramping up as quickly as might have been expected given the turnaround in job growth in 2004. Labor markets haven't tightened enough to worry the Fed about near-term cost pressures. The unemployment rate will have to get well below 5% before tight labor markets become an issue.
That's true even though productivity is set to slow this year. As the employment cost report shows, businesses are keeping an eagle eye on labor expenses. So while unit labor costs will be rising in 2005, the pace probably won't be strong enough to shift inflation into a higher gear. Plus, stiff domestic and foreign competition will force companies to absorb higher costs in their profit margins, rather than risk losing market share by raising prices.
Likewise, the industrial sector began 2005 on solid ground. But the increased activity is unlikely to alarm policymakers because factories aren't facing bottlenecks. Plus, the influx of imports into the U.S. means that slack capacity is now measured globally, not locally.
The Institute for Supply Management reported that industrial activity increased in January, but at a slower pace than in December. Production sped up last month, but orders growth weakened.
But more important for the Fed, the ISM's indexes on vendor deliveries, prices, and inventories all supported the notion that price pressures may actually be easing. The index for delivery times has fallen in each month since May, meaning businesses are not waiting as long for deliveries as they used to. And the percentage of purchasers reporting price increases is falling.
Also, inventories are looking better. The percentage of purchasers who said their customers' inventories were too low fell for the second month in a row. On top of the ISM news is the Fed's own tracking of industrial operating rates. Manufacturing in December used only 77.8% of its available capacity. Past patterns suggest the Fed is not going to worry about capacity constraints until demand causes operating rates to exceed 83%, delivery times to lengthen sharply, and inventories to shrink again.
INDEED, ONE BIG PLUS for policy is that demand is solid enough that it doesn't need the help from low interest rates. But it is not so hot as to risk overheating, which would force the Fed to move more aggressively.
Real gross domestic product grew at a 3.1% annual rate in the fourth quarter. The gain was less than expected partly because the trade deficit was bigger than economists had estimated. However, a few days after the GDP release, Statistics Canada found an error in its trade data, meaning the fall in U.S. exports contained in the GDP report was overstated. Estimates suggest that the error left GDP growth about 0.3% to 0.4% lower than it should have been. The Commerce Dept. will correct for that when it reports its revisions to the GDP data on Feb. 25.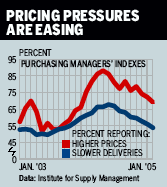 Domestic demand grew by a solid 4.3% pace last quarter, with business investment on equipment and software jumping 14.9%. That's good news for the Fed because companies are still focused on increasing their productivity by investing in high-tech machinery.
This latest GDP report, along with the news on labor costs and delivery times, suggests 2005 will be a Fed-friendly year. But make no mistake, policymakers will not be complacent. One hallmark of the Greenspan Fed is its willingness to move preemptively. If the outlook changes suddenly and the economic data raise worries about inflation, you can be sure policymakers will shift their goals to meet the new challenge.
By James C. Cooper & Kathleen Madigan
Before it's here, it's on the Bloomberg Terminal.
LEARN MORE