It's Breathtaking At Imax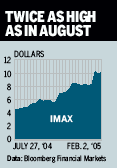 With more movie operators converting to Imax (IMAX ) screens (which are often eight stories high and 120 feet wide) -- in China, India, and Russia, as well as the U.S. -- shares of Imax (IMAX) are drawing investors. A pioneer in sound and projection for giant screens, Imax' format lets theaters convert their 35mm films into the 70mm Imax system. Shares have more than doubled, from 4.50 in August to 10.02 on Feb. 2, driven by the rise in the number of theaters signing up for the Imax format. Bernie Schaeffer, CEO of Schaeffer's Investment Research, which owns stock, notes that the shorts, expecting Imax to face cash-flow woes, have sold the equivalent of 16% of shares outstanding. That, plus Imax' strong upside action, sets up "a potentially explosive backdrop for further gains." An added plus: Imax is a takeover target for entertainment giants or private equity firms that have already acquired theater chains, he says. Sony (SNE ), Time Warner (TWX ), and Walt Disney (DIS ) were among the suitors when Imax was up for sale in 2000. But it took itself off the market when the allure of the movie-theater business faded after a rash of theater-building. Richard Ingrassia of Roth Capital Partners figures Imax will earn 24 cents a share in 2004 and 34 cents in 2005, vs. 2003's 14 cents. He rates the stock a buy. CEO Brad Wechsler says Imax signed 35 new agreements in 2004 and expects 40 to 50 in 2005. Currently, there are about 240 Imax formats in place in 35 countries.
Note: Unless otherwise noted, neither the sources cited in Inside Wall Street nor their firms hold positions in the stocks under discussion. Similarly, they have no investment banking or other financial relationships with them.
By Gene G. Marcial
Before it's here, it's on the Bloomberg Terminal.
LEARN MORE