Britain: Enough Growth To Buoy Blair?
Prime Minister Tony Blair has said he will put the economy at the center of his bid for a third term. A few days ago, the plan seemed questionable. Now the strategy is looking sounder.
Blair's forecast for economic growth of between 3% and 3.5% for 2005 is above many private forecasters' expectations. Moreover, industrial production is falling, and retailers suffered their worst Christmas season in decades. The fear: Consumer spending could crumble under the weight of higher interest rates and a burst housing bubble, dragging down the economy.
The latest reports, however, allay some of those worries. In particular, real gross domestic product in the fourth quarter grew a greater-than-expected 0.7% from the third quarter. That's equal to a 3% annual rate and faster than the third quarter's 0.5% gain. Growth for the year was a healthy 3.1%, up from 2.2% in 2003.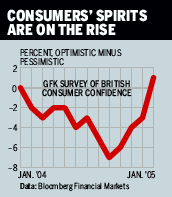 The economy's strength remains concentrated in the services sector, which accounts for 72% of GDP. Service output, buoyed by strong growth in business services and finance, rose 1% last quarter, outpacing the third quarter's 0.9% rise.
To be sure, the manufacturing and retail sectors were weak. Manufacturing output fell 0.2%, the second quarterly decline in a row. But that weakness mainly reflected downtime for maintenance in oil and gas extraction, which was completed by October. And the British Chambers of Commerce reported very strong export orders for the fourth quarter.
Output in the retailing sector posted a slim 0.3% gain, the weakest in nearly two years. Nevertheless, through January, house prices appear to be stabilizing, not collapsing, and January consumer confidence hit a two-year high. These trends imply a more resilient consumer sector than the bleak December retail sales numbers suggested. And amid tight labor markets, wages are growing in the 4%-to-4.5% range, well above December's 1.6% inflation rate.
With Blair likely to call for elections as early as May, the Treasury is already talking up the latest data. And while the economy's strength is not broadly based, it may well prove politically sufficient.
By James C. Cooper & Kathleen Madigan
Before it's here, it's on the Bloomberg Terminal.
LEARN MORE