Australia: Tie Me Dollar Bill Down, Sport
Australia's economy began the year with domestic demand losing momentum and a higher currency hurting exports.
The latest data on Australia's retail sales and foreign trade show the economy was slowing at the end of 2004. For the year as a whole, real gross domestic product probably grew by about 3.5%, down from a 4.3% rate in 2003.
Growth for 2005 is expected to ease to 3% or so. But will the slowdown quiet the recent inflation rumblings? Higher airfares and oil prices caused consumer prices to rise a larger-than-expected 0.8% in the fourth quarter from the third. For the year, inflation came in at 2.6%, near the upper end of the Reserve Bank of Australia's target of 2% to 3%.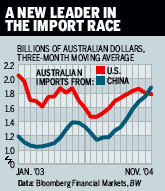 Inflation worries are also being stoked by tight labor markets. Almost 260,000 jobs were created in 2004, and the jobless rate in December hit a 28-year low of 5.1%. Although the surge in hiring has helped to lift consumer confidence to an 11-year high, it has not yet led to higher pay gains. The RBA will be watching to see if wage growth picks up this year.
Inflation would probably be higher if not for the influx of imports, which have become cheaper thanks to the rise of the Australian dollar. It has surged 50% against its U.S. counterpart over the past three years. China, whose currency is linked to the U.S. dollar, has been a big beneficiary. Imports from China are up 57% from year-ago levels. China has overtaken the U.S. as Australia's No. 1 source of imports.
But the Aussie dollar has been a drag on exports, which account for one-fifth of the economy. Exports fell in both October and November while imports rose to a record, resulting in a near-record trade deficit of A$2.66 billion ($2 billion) in November.
A year ago, the RBA's concern was the prospect of a housing bubble. But its rate hikes of 2003 seem to have calmed that market. Building approvals slowed over the course of 2004, and the downturn was orderly.
For this year, the RBA will face a harder challenge. It will probably raise interest rates to slow inflation. But higher rates could push up the Aussie dollar even more, increasing the already big drag on the important export sector.
By James C. Cooper & Kathleen Madigan
Before it's here, it's on the Bloomberg Terminal.
LEARN MORE