U.S.: Strong Demand Is Firing Up U.S. Factories
After running lean, they're gearing up to fill orders and build inventories
There is no question that the economy's strength in last year's second half was surprising. Despite high oil prices, election uncertainties, and constant geopolitical jitters, consumers picked up their spending pace, and business showed heightened eagerness to shell out for new equipment. The good news for 2005 is these gains in demand are lifting U.S. production and intensifying the need to beef up inventories. And because the U.S. is still the world's growth engine, solid American demand will fuel overseas economies as well, eventually helping U.S. exporters to take advantage of the dollar's competitiveness.
This demand-driven momentum should be a key feature of the Commerce Dept.'s report on fourth-quarter real gross domestic product, due on Jan. 28. Spending by U.S. consumers, businesses, and governments for all goods and services grew at a 4.9% annual rate in the third quarter, and it appears to have increased near that pace in the fourth quarter. That's about a full percentage point faster than the pace in the first half.
But not all of this demand strength will show up in the growth of real GDP. That's because a significant share of that spending is being satisfied by foreign, not U.S., producers as imports surged. In fact, exports fell because of weak foreign demand. Overall, a sharply wider trade deficit, as seen in the October and November data, is expected to have subtracted between 1.5 and 2 percentage points from overall GDP growth last quarter.
At the same time, however, businesses seemed to have built up inventories at a much faster pace than in the third quarter, reflecting efforts to keep up with strong demand. Based on data through November, stockbuilding probably contributed about a percentage point to last quarter's GDP growth.
Of course, Commerce will have the final say, but given these three expectations, overall GDP growth was probably in the range of 3.5% to 4% last quarter. Even taking the lower figure, average growth last year was at a 4.4% annual rate, the strongest showing since 1999. Domestic demand posted the best yearly advance in four years, despite the big drain from costlier energy.
FOR 2005, DEMAND once again holds the key to the outlook. The momentum implied by the fourth-quarter GDP report and the strong yearend data bodes well for at least the first quarter. Business spending is buoyed by strong earnings and cash flow, high profit margins, and the easiest financial conditions in years. And with the labor markets improving and confidence rebounding, households also began 2005 on firm ground.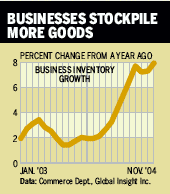 One potential trouble spot: Crude-oil prices were back up to nearly $48 per barrel on Jan. 19. Costlier heating oil will take a bite out of household budgets, especially in the Northeast, but the broader impact might not be felt until the spring driving season, if prices stay up. Based on their historical relationship, crude oil at $48 per barrel has implied gasoline prices of about $2 per gallon. In mid-January, gas averaged $1.82. So gas prices could rise again in coming months, crimping purchasing power.
For now, households are doing just fine. December retail sales jumped 1.2%, lifted mainly by a spike in car buying. Excluding autos, sales rose only 0.3% in the month, but for the entire fourth quarter they grew at an annual rate of 9.1% from the previous quarter, nearly double the third-quarter increase. The surge in retail sales all but assures that real consumer spending grew at least 4%, following the third quarter's 5.1% advance.
Moreover, measured from the previous year -- the way chain stores report their numbers -- sales during the holiday period don't look Grinchy at all. December receipts at general merchandise and clothing stores were up 6%, the strongest yearend showing since 1999, according to Commerce's accounting. Plus, sales at nonstore retailers surged 14.3%, compared with the 8.6% increase in December, 2003, implying a big pickup for Internet and catalog shopping.
THE CRUCIAL CARRYOVER into 2005 will be the boost this robust yearend demand gives to industrial production, both in the U.S. and abroad. The lift is already showing up domestically. Output in the nation's factories, mines, and utilities jumped 0.8% in December. During the past three months, output growth has accelerated to an annual rate of 7.5%, the strongest three-month advance in a year. The gains have been broad, led by a pickup in high-tech equipment.
A key reason production has accelerated is the dearth of inventories. From August through October, companies worried about the potential negative impact on demand from higher oil and gasoline prices. But spending never wavered and by November businesses felt confident enough to boost their stockpiles by a large 1%. Even so, the ratio of inventories to sales for manufacturers, wholesalers, and retailers was still only 1.31 in November, close to a record low. Retailers, in particular, ordered cautiously for the holidays, so heading into December, nonauto retailers held a near-record low level of inventories in relation to sales.
IN GENERAL, THE SHIFT to just-in-time inventories has lowered the inventory-sales ratio over the last 15 years, but the danger is that companies can more easily get caught short if demand picks up suddenly. That seems to be happening now. For manufacturing, where shipments and orders are rising strongly, most of the November inventory increase occurred in finished goods and work-in-process. Yet that stockpiling may not have been enough. In December purchasing managers at industrial companies noted that current and expected demand required higher inventory levels. They also said that their customers do not have sufficient inventories on hand.
Interestingly, during the past three months, wholesale inventories have risen twice as fast as nonauto retail stockpiles. That suggests a good bit of the faster inventory growth of late can be attributed to imports. Indeed, imports of nonoil goods posted strong gains in both October and November.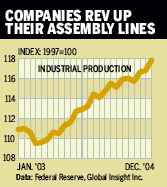 Those advances are part of the reason the trade deficit ballooned in the fourth quarter. Imports last quarter, adjusted for prices, appear to have grown at an annual rate of greater than 10%, after increasing only 4.6% in the third quarter.
Obviously, foreign producers are benefiting from robust U.S. spending, which should help employment, confidence, and demand overseas. U.S. exports seem to have declined last quarter, but the purchasing managers' index of export orders rose strongly in December, suggesting that first-quarter shipments will post a much healthier showing.
The bottom line is that last year's broad pickup in U.S. demand has implications for both the U.S. and economies abroad. Despite the rise of China, the U.S. still accounts for more than a quarter of the volume of world merchandise trade. And in an increasingly interdependent world, strong U.S. growth will also help to lift American exports.
By James C. Cooper & Kathleen Madigan
Before it's here, it's on the Bloomberg Terminal.
LEARN MORE