The Dutch May Tune In Arbitron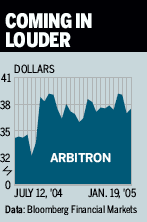 Arbitron (ARB ) is to radio audience data what Nielsen Media Research is to TV. Some pros are high on Arbitron, up from a 52-week low of 31 to 37.56 on Jan. 19. One reason: takeover talk. In 2001, Nielsen was acquired by the Netherlands' VNU, tops in world marketing and media research. Arbitron has "many of the characteristics that attracted VNU to Nielsen," says Mark Boyar of Boyar Asset Management, which owns shares. Arbitron serves radio broadcasters, such as Clear Channel (CCU ) and Viacom's (VIA ) Infinity unit, as well as cable companies and ad agencies.
Boyar explains that Arbitron and Nielsen info is something broadcasters and advertisers "must have." And both companies enjoy predictable earnings and generate substantial free cash flow. Arbitron also measures the audiences of audio and video Webcasts. VNU is rumored to be looking for another purchase, says Boyar, having recently sold its telephone directory business. Arbitron would be "a natural target for VNU," says Boyar, who figures it is worth 50 to 60 in a buyout. The synergies "would fill one of the few gaps in the VNU portfolio," he adds.
VNU has already tested Arbitron's "Portable People Meter," a new technology that measures radio, TV, and cable audiences -- whether at home or on the go. Alissa Goldwasser of securities firm William Blair, who rates Arbitron "outperform," expects earnings of $1.77 a share in 2004 and $1.94 in 2005. Arbitron declined comment. VNU couldn't be reached.
Note: Unless otherwise noted, neither the sources cited in Inside Wall Street nor their firms hold positions in the stocks under discussion. Similarly, they have no investment banking or other financial relationships with them.
By Gene G. Marcial
Before it's here, it's on the Bloomberg Terminal.
LEARN MORE