Spain: Growing Risks For A Star Performer
Spain's economy heads into 2005 looking pretty good with growth expected to be among the best in the euro zone. But the country faces growing risks that could upend its long run of stellar performances.
Domestic demand continues to fuel growth. Car sales rose in December from the year before by 3.2%, and the purchasing managers' index for the service sector bounced to 53%, from 52% in November. Thanks to strong demand, November industrial production rebounded, up 3.9% from the previous year, after a 1.5% fall in October. Consumer goods output alone rose 3.9%.
A healthy labor market and rising real wages are set to keep the economy humming. The number of registered unemployed fell by more than 12,000 persons in December and was lower overall in 2004. That was the first yearly fall since 2000. Plus, the government upped the minimum wage by 4.5%, effective Jan. 1, and pension payments, linked to inflation, are set to rise by 3.5%.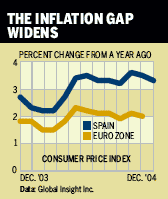 But strong demand at home is feeding inflation. Although prices fell 0.1% in December, they still stood 3.3% above their previous-year levels. Cheaper fuel helped to ease price pressures last month, but BNP Paribas economist Marie-Laure Michaud says inflation will stay above 3% this year.
That inflation rate continues to outpace the euro zone average, which was just 2.2% in November. At the same time, the euro is on the rise. That combination will weigh on growth by crimping exports and making imports more attractive. The tourism industry, which makes up close to 12% of Spain's economy, will also suffer, especially if the other euro zone economies remain stagnant.
But a larger threat to growth looms on the horizon. Low interest rates touched off a housing boom in recent years. Most economists expect the European Central Bank to begin raising interest rates around the middle of this year. Since most mortgages in Spain are variable rate, borrowers would see interest costs increase when rates go higher. Climbing interest expenses would slow down the housing market, hurt the robust construction sector, and most likely put a damper on consumer demand.
By James Mehring in New York
Before it's here, it's on the Bloomberg Terminal.
LEARN MORE