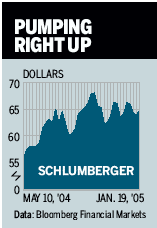 Schlumberger (SLB ) hasn't participated much in the oil-and-gas stock rally, because events such as hurricanes in the Gulf of Mexico and problems in Venezuela and Russia crimped earnings. But to Sarat Sethi at investment boutique Douglas C. Lane, Schlumberger is still the best energy bet. The spike in crude oil prices has stimulated drilling, boosting demand for its services, including seismic surveys and well completions. In the next couple of years, much of the spending on exploration, says Sethi, will be directed toward offshore and international projects, mainly in deepwater -- where Schlumberger is "extremely strong."
Not only are the big oil companies spending again to find oil, but state-owned oil companies, especially in India and Mexico, are also increasing their exploration budgets, notes Sethi. Schlumberger has strong ties with many such state-run enterprises, he adds. Brad Handler of Wachovia Securities, who rates the stock "outperform," notes that the company leads peers in international exposure, with 70% of its revenues derived outside North America. In 2001, Schlumberger shifted strategy to provide integrated oil-field services; in 2003, it sold its noncore assets, including its semiconductor testing unit. With a renewed focus on driving up earnings, says Sethi, he expects "some upside surprises to its earnings." That, he adds, should fetch a "premium valuation" for Schlumberger as a growth stock.
Trading at 64 -- up from 55 in May -- the stock should hit 75 to 80 in a year, predicts Sethi, based on his 2005 earnings forecast of $2.75 a share, on sales of $12.9 billion, and $3.35 in 2006 on $14.1 billion, up from $2.10 in 2004.
Note: Unless otherwise noted, neither the sources cited in Inside Wall Street nor their firms hold positions in the stocks under discussion. Similarly, they have no investment banking or other financial relationships with them.
By Gene G. Marcial
Before it's here, it's on the Bloomberg Terminal.
LEARN MORE