U.S.: Profits Should Stay Perfectly Presentable
Price and productivity gains in 2005 may be enough to widen margins
The fourth-quarter earnings season is just getting under way. Market professionals generally expect a solid 15% gain from the previous year in earnings per share for the 500 companies in the Standard & Poor's 500-stock index. That showing would bring profit growth for the full year to about 20%. Such an increase is well ahead of expectations at the beginning of 2004. But now it's time to zero in on prospects for 2005.
Both industry analysts and equity strategists expect profits to slow considerably this year. Analysts, who always tend to be the more upbeat of the two groups, look for a full-year gain of 10.5%, according to Thomson Financial (TOC ). The strategists, who take a broader economic view, see a gain of only 6%. Neither would be a bad showing, especially in the fourth year of an economic recovery and given that 2004's stellar performance will present a tall hurdle for previous-year comparisons.
What's behind the expected slowdown? The December job report, with its gain of 157,000 new jobs last month, made it clear that the labor markets are improving. And with productivity slowing, faster-rising unit labor costs may begin to squeeze profit margins. At the same time, growth in overall earnings will be constrained by whatever top-line revenue gains companies can generate in a year when the growth rate for demand is expected to slow. That's the classic business-cycle pattern.
But 2005 might be different. In fact, this year could be one in which both companies and workers enjoy more equally the benefits of improving economic growth. Productivity will be the key. As long as efficiency gains keep unit costs rising below price increases, then profit margins can expand, if only slightly. At the very least, they should hold steady.
SINCE THE RECESSION ENDED in 2001, businesses have reaped the lion's share of the gains from the exceptionally strong uptrend in productivity. Profits soared, while job and income growth remained lackluster.
But 2004 signaled a change in that pattern. Hiring finally picked up, as did income growth from wages and salaries. The resulting higher labor costs -- along with the unexpected jumps in oil and commodity prices -- meant the pace of corporate profits slowed. But thanks to solid enough advances in productivity, margins remained high last year, and earnings consistently beat expectations.
The Labor Dept. has not yet reported on fourth-quarter productivity, but given the expectations for about 3.5% output growth and a 2% gain in hours worked, as shown in the latest jobs report, the fourth-quarter productivity increase was probably in the range of 1.5%. If so, output per hour managed to grow at a healthy clip just above 2.5% from the end of 2003 to the end of 2004. That's less than half the spectacular 5.7% pace posted during 2003, but productivity typically slows when a recovery gains traction. Plus, the 2004 pace is close to productivity's long-term growth trend, generally estimated to be about 2.5%.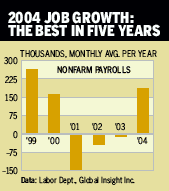 Even with the advance in productivity, the economy was able to create 2.2 million new jobs last year, or about 186,000 slots per month, the best showing since 1999. That performance is disappointing only in the context of past job cycles. In the period of just over three years since the 2001 recession ended, payrolls have risen only 1%, compared with 4.6% during the "jobless recovery" after the 1990-91 recession and an 11.1% surge after the 1981-82 downturn.
IN 2005 PRODUCTIVITY GAINS, while clearly cooling, are not likely to fall as sharply as they have at this stage of past recoveries. Previously, it was not unusual for productivity to actually decline for a period as businesses were willing to add workers in anticipation of coming demand growth. But in today's economy, companies remain fixated on using greater efficiency as a means to hold the line on costs and lift profits and shareholder value in an extremely competitive global marketplace. Those pressures will remain in place this year, if not intensify. Indeed, foreign trade remains an obstacle to growth for the U.S., as the huge widening in the November trade gap showed.
Equally important, global competition as well as the technology revolution have altered Corporate America's mindset regarding productivity and hiring. As a result, the job cycle has changed, perhaps forever. The days when employment gains averaged more than 300,000 per month, as they did in 1994, are gone. But keep in mind that last year's job growth was still strong enough to support healthy income advances. In December average hourly wages for production and nonsupervisory workers were up by 2.7% from the previous year. That's a much better showing than the cycle-low of just 1.6% in February.
In 2005, given the expectations for 3.5%-to-4% economic growth, along with 2% productivity growth, payrolls should increase in the neighborhood of last year's clip. Based on historical relationships, the pace should be sufficient to lower the jobless rate to about 5%, from 5.4% in December, 2004, and it will create enough new income to support a 3% or so rise in consumer spending.
An improving climate for workers doesn't mean profits have to take it on the chin. The economy showed considerable momentum heading into 2005. December's purchasing managers' surveys for both the factory and nonmanufacturing sectors suggested a firmer tone among businesses. Also, consumer spending surpassed expectations. Strong December car sales and post-Christmas buying imply that real household outlays grew at an annual rate of about 4% last quarter. The profits outlook will be enhanced if either economic growth or pricing power outperform expectations this year.
IT'S EASY TO construct a scenario, using conservative assumptions, in which profit margins could actually expand a bit further in 2005. With slack in the labor markets being taken up very slowly, workers' wages and benefits this year are unlikely to grow much faster than their pace of about 4% in 2004. Wages will pick up, but the pace of benefits should slow as they did last year, when health-care costs began to cool.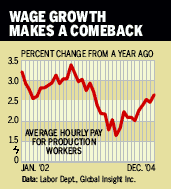 If productivity rises 2%, a 4% gain in compensation means the cost of labor to produce a unit of output, on average, will rise 2%. Prices are widely expected to rise in the 2%-to-3% range. Any gains above 2% would result in wider profit margins on each unit of output.
In addition, profits will be helped by the weaker greenback, as foreign-based earnings of U.S. multinationals are translated into dollars.
Without a doubt, corporate earnings in 2005 will not match their consistent outperformance of 2004. In the first quarter of last year, 73% of company reports beat expectations, followed by 67% in the second quarter and 62% in the third, according to Thomson Financial. But given the sharply lower expectations for 2005 and the continuing potential for additional margin expansion, there may well be some room for a few upside surprises this year, too.
By James C. Cooper & Kathleen Madigan
Before it's here, it's on the Bloomberg Terminal.
LEARN MORE