International Trade: Why the U.S. Deficit Is Stubbornly Huge
The U.S. trade gap for November was a shocker. After the October deficit had widened by a huge $5.1 billion to $56 billion, many economists had expected the deficit to narrow slightly, especially with the dollar declining and oil prices beginning to retreat. Surprise! The November deficit jumped another $4.3 billion, to a record $60.3 billion.
The latest data refocus attention on the intractable nature of the U.S. trade problem. U.S. imports are 50% greater than U.S. exports, so shipments abroad have to grow far faster than imports just to stop the deficit from widening. But in November, real imports of goods were up 12.1% from the previous year, while exports were up only 1.2%.
True, the 16% drop in the broad trade-weighted dollar since its peak in early 2002 is making U.S. exports more competitive overseas. But the benefits of a lower dollar are being overwhelmed by weak foreign growth, especially in Europe. At the same time, strong U.S. demand continues to bring in more imports.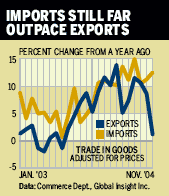 Equally important, the dollar's decline has not been evenly distributed. The greenback has fallen significantly vs. the euro and yen, but the major-currency countries account for less than half of the volume of U.S. trade. Compared with early-2002 rates, the dollar is still up 2.5% against a basket of currencies from countries that make up 40% of U.S. trade volumes.
China, in particular, is using its surging foreign exchange reserves to link its currency to the U.S. dollar and keep the yuan cheap. According to The Asian Wall Street Journal, China boosted its reserves by $207 billion last year, to $609.9 billion. Given such currency pegs, it's no wonder that, while nonoil import prices have increased 3.4% over the past year, they haven't risen at all for goods coming from Asia's newly industrializing economies.
The most immediate impact of the November trade surprise will be on U.S. economic growth. Without major improvement in the December deficit, trade is set to subtract, by itself, some 1.5 percentage points from growth in real gross domestic product.
What the November report shows is that a lower dollar, by itself, will not be a cure-all. Faster world growth in 2005 will be needed as well.
By James C. Cooper & Kathleen Madigan
Before it's here, it's on the Bloomberg Terminal.
LEARN MORE