Bandag May Be Laying Rubber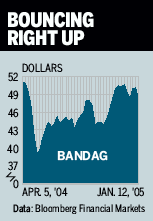 Bandag (BDG ), the world's largest retreader of truck and bus tires, is bouncing back after hitting a few speed bumps last year. The rising cost of raw materials, especially oil, and the loss in May of a big contract with Roadway Express after it merged with Yellow Freight (YELL ), took its toll on earnings. The stock slid from 51 on Apr. 5 to a low of 39 on May 10. It has since rebounded to 47. Most analysts, however, remain unenthusiastic about the stock. But not Steven M. Cohen, chief investment officer at Kellner DiLeo Cohen, which owns shares. "There was an overreaction to the Roadway loss," he says. Trucking activity has been robust as the economy continues to recover, notes Cohen.
Bandag's February purchase of Speedco from Royal Dutch/Shell (RD ) gave it a new driver to speed up sales, he says. Speedco provides truckers with quick lubrication services nationwide, plus a new distribution channel for its tires, which, Cohen says, gives Bandag a big opportunity to boost retread-tire sales. Since its purchase, Speedco pulled in $38.1 million in revenues through Sept. 30. Cohen figures Bandag, trading at 12 times estimated 2005 earnings of $3.91 a share, deserves a price-earnings ratio of 16, implying a share price of 62. The consensus estimate for 2006 is $4.35, up from an estimated $2.94 in 2004 and $3.11 in 2003, according to Zacks Investment Research.
Note: Unless otherwise noted, neither the sources cited in Inside Wall Street nor their firms hold positions in the stocks under discussion. Similarly, they have no investment banking or other financial relationships with them.
By Gene G. Marcial
Before it's here, it's on the Bloomberg Terminal.
LEARN MORE