Housing, Americans' favorite investment, faces a pivotal year in 2005. After three years of torrid increases, both starts and sales seem set to fall this year. The key question is: by how much? A hint of a big decline came in the news that housing starts plunged 13.1% in November, while new home sales fell 12%. And economists surveyed by BusinessWeek last month listed the bursting of a housing bubble as one possible shock for 2005.
But it should be noted that most forecasters give such an unraveling a low probability -- and with good reason. Home construction and demand will probably slow this year, but the fundamentals argue that neither will fall by much. The bond market has already priced in a gradual tightening of monetary policy. That means mortgage rates are unlikely to rise much, and affordability should get a boost from stronger job and income growth.
As for those November numbers? Much of the weakness can be traced to extremely wet weather. Available December data suggest a bounce back. The National Association of Home Builders/Wells Fargo Housing Market Index climbed to its highest level in more than a year in December, with sales expectations rising. And despite a steep drop in the holiday-shortened last week in December, mortgage applications to buy a home remained for the entire month on a par with the November average, which was up 2.8% from October.
What this means for the outlook is that housing won't contribute much, if anything, to overall economic growth. But it also won't subtract much from growth, which ended 2004 with a good deal of momentum, given the two strong December reports from the nation's purchasing managers and the jump in December vehicle sales. More important, demand should remain healthy enough to give home prices at least a small lift in 2005. That will increase household wealth and confidence.
To be sure, the one thing that could wreck the housing outlook would be a slump in the bond market that would send long-term interest rates soaring. Bond traders are becoming a bit more anxious after the surprisingly hawkish tone on inflation in the minutes of the Federal Reserve's Dec. 14 policy meeting, which suggested a firmer resolve to push rates higher. Nevertheless, the minutes did not suggest a deviation from the Fed's current pattern of quarter-point hikes at each meeting.
BUT BACK TO THE KEY QUESTION: How much will housing slip in 2005? According to the forecasts from three economic teams who watch the housing market closely, the National Association of Realtors, the Mortgage Bankers Assn., and Fannie Mae (FNM ), construction and sales won't see dramatic falloffs. The experts also say prices should keep rising, although at a slower pace. So, while some housing markets in the U.S. show signs of overheating, homeownership generally will remain an attractive investment in 2005.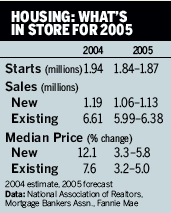 Granted, these groups have vested interests in presenting an upbeat assessment of housing. But their outlook for housing starts is not out of line with the consensus forecast of economists in the Blue Chip Economic Indicators survey, which expects homebuilding to fall 6%.
As usual, mortgage rates will be the key driver in this year's housing market. Indeed, housing's surprising strength in 2004 stems primarily from the failure of long-term interest rates to rise as widely expected. As a result, 30-year mortgage rates averaged 5.8% last year, the same as in 2003.
For 2005, long-term rates are sure to rise, reflecting a strong economy, an expectation of slightly higher inflation, and an expected "measured pace" of Fed tightening. The housing trade groups see long-term interest rates increasing by just over half a percentage point. The Blue Chip consensus forecasts a rise of about three-quarters of a point.
EVEN IF LONG RATES move up in 2005 according to current expectations, mortgage rates will remain low enough to keep housing affordable. Movements in 30-year fixed mortgage rates are tightly correlated with the yield on 10-year Treasury bonds. Based on their historical relationship, if the 10-year Treasury yield averages 4.8%, as expected by the Blue Chip survey of economists, that yield would imply an average mortgage rate of only 6.4%.
Consider a home costing $190,000, close to the median price of an existing home expected in 2005, and a 20% down payment. An increase in the mortgage rate from 5.8% in 2004 to 6.4% in 2005 would boost the monthly payment of that mortgage by only $60, to about $950. Given the median household income of about $55,000, that higher payment now would take up about 21% of the household budget, up from about 19%. That is still well below the 25% cutoff that lenders tend to follow in their mortgage approval process.
In fact, mortgage rates would have to go above 8% before the monthly payment would breach the 25% limit. Only then would higher rates begin to put home buying out of reach for a large number of people. But based on the historical relationship between mortgage rates and Treasuries, an 8% mortgage rate could exist only if the yield on 10-year Treasury bonds soared to 6.5%, from 4.2% currently. Given the most likely paths for inflation and Fed tightening, a bond market collapse of that magnitude is highly unlikely.
IN ADDITION, PRICES AND RATES account for only one side of the affordability equation. Even as higher rates push up monthly mortgage payments, households will be in better shape to cover the extra cost. If hiring picks up as expected in 2005, incomes will grow more closely in line with increases in home prices.
In 2004 yearly payroll employment rose for the first time since 2000, averaging more than 180,000 new slots per month. As a result, median household income, which advanced only 1.9% in 2003, grew at a faster 3.3% clip last year. In 2005 employment gains should at least match their 2004 pace, and, with job markets tightening, pay rates will rise faster. That means median family income is sure to accelerate as well.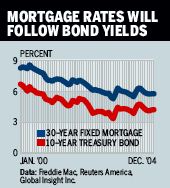 Favorable demographic factors will also continue to support housing demand, especially in the second-home market. Baby boomers are snapping up vacation homes that will someday be retirement homes. According to the National Association of Realtors, tax law changes in 1997, which allowed sellers to exclude up to $500,000 in capital gains from taxation under certain circumstances, coincided with boomers entering their peak second-home buying years. The result has been an explosion of demand that has sent sales -- and prices -- soaring on both coasts and in other desirable retirement areas.
For 2005, despite the prospects of higher interest rates, home buyers and builders can rest easy. Rates are rising because the economy is strong. To be sure, housing demand will ease back a notch, but even that could have long-run benefits to the extent that it lets a little air out of the home-price bubble in some areas. The housing boom may finally be over, but this is one boom that will not turn to bust anytime soon.
By James C. Cooper & Kathleen Madigan
Before it's here, it's on the Bloomberg Terminal.
LEARN MORE