France: Not A Lot Of Gas In This Job Engine
Will a new year mean more new jobs for French workers? President Jacques Chirac has made better employment growth a focus for 2005. But private economists are skeptical that France can grow fast enough to generate a pickup in hiring.
In the second half of 2004 the economy wrestled with higher energy prices, which hurt domestic demand, and a strong euro, which curbed export growth. Final revisions to the data show that real gross domestic product did not grow at all in the third quarter. Consumer spending fell even more than first estimated.
Growth probably was weak in the fourth quarter, meaning the economy grew less than 2% for all of 2004. The slowdown is hitting the job markets. November's jobless rate stayed at a high 9.9%, above the 8.9% rate for the total euro zone. With work prospects dismal, confidence was weak at yearend. Spending held up, mainly because of tax breaks and rebates for car buying.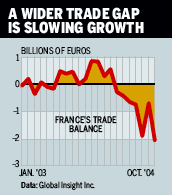 In his traditional New Year's Eve speech, Chirac vowed to make job creation a priority in 2005. Prime Minister Jean-Pierre Raffarin has said the jobless rate will fall to 9% by yearend. That forecast is partly based on the tax cuts and labor reforms -- such as giving more flexibility to the 35-hour workweek rule -- which could prompt more hiring.
Raffarin also said France's real GDP will expand by 2.5% this year. But private economists, as well as the Organization for Economic Cooperation & Development, see growth at 2% or less. That pace is simply not strong enough to create enough new jobs to reduce the unemployment rate by one percentage point. The OECD, for example, forecasts the jobless rate will fall only to 9.5%.
Moreover, France's economic prospects will be stymied by any further strengthening of the euro, which makes French exports more expensive. Export growth has slowed even as imports are soaring. In October the trade deficit hit a record high of 2.1 billion euros ($2.6 billion). Weak foreign demand is weighing on business sentiment as well. The confidence index for manufacturers declined again in December as foreign orders stayed in negative territory.
By James C. Cooper & Kathleen Madigan
Before it's here, it's on the Bloomberg Terminal.
LEARN MORE