Cornell May Be Poised For A Breakout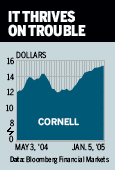 There's unrest at Cornell (CRN ), a provider of operational services, including medical treatment and education, to 70 federal and local prisons in 13 states. Spearheading demand for reforms is Cornell's largest stakeholder, Pirate Capital, headed by Zachary George, which owns 14.5%. George says Cornell has been mismanaged, and he wants Chairman and CEO Harry Phillips Jr. to resign. Pirate's goal is to enhance shareholder value by selling the company.
"Pirate continues to receive calls from strategic and financial buyers interested in Cornell," says George in a 13D filing with the Securities & Exchange Commission. Phillips has agreed to resign as CEO but remain as chairman and has started a search for a new chief. George insists Phillips should leave both posts.
Cornell's stock has reacted favorably to the turmoil, leaping from 12 in May to 15.31 on Jan. 5 . Sheryl Skolnick of Fulcrum Global Partners, who rates the stock a buy, figures it is worth 20 in a buyout. The company missed estimates in the past two years. The stock is up, explains Skolnick, because a takeover is imminent. Her earnings forecast: 48 cents a share in 2004 and 71 cents in 2005, vs. 2003's 80 cents. Pirate aims to submit its own slate of directors in order to sell the company. A Cornell spokesman says the company has received offers but none has met the best interests of shareholders.
Note: Unless otherwise noted, neither the sources cited in Inside Wall Street nor their firms hold positions in the stocks under discussion. Similarly, they have no investment banking or other financial relationships with them.
Corrections and Clarifications In "Cornell may be poised for a breakout" (Inside Wall Street, Jan. 17), Zachary George is an investment analyst at Pirate Capital LLC and not its head. Thomas R. Hudson Jr. is managing member of the firm.
By Gene G. Marcial
Before it's here, it's on the Bloomberg Terminal.
LEARN MORE