U.S.: Financial Fuel For The Economy's Engine
Accommodating conditions -- and the expansion -- stem mostly from Fed policy
The tag line in the old Timex commercial also applies to this three-year economic expansion: It takes a licking and keeps on ticking. Despite the terrorist attacks, corporate scandals, war in Iraq, and soaring oil prices, the economy has kept performing, and growth has accelerated each year since the 2001 recession. Why? Extremely accommodative financial conditions have powered demand, and these supports will continue their growth-building ways in 2005.
Accommodative financial conditions set this expansion apart from all the others. They stem mostly from the unusual amount of easing of monetary policy by the Federal Reserve in an effort to assure that deflationary forces would not take hold in the wake of the stock market bust, the recession, and a world awash in excess production capacity. The Fed has also adopted a willingness to communicate its goals clearly to the financial markets, especially to bond traders. This transparency will be even more evident in 2005, thanks to changes in how the Fed reports its policy decisions.
Make no mistake, rates at both the short and long ends of the yield curve will rise in 2005 as the Fed keeps increasing its target for the federal funds rate. However, keep in mind that the real funds rate -- the target minus inflation, using the Fed's preferred price index -- is still below zero. That's a sign Fed policy is highly conducive to economic growth.
The Fed has a long way to go before it moves the federal funds rate back to "neutral," a level that no longer stimulates growth. Economists generally put that rate in the neighborhood of 4%, given low inflation. And with inflation likely to edge only slightly higher, long-term rates, which are crucial to housing demand and corporate finance, probably won't rise as much as short rates and will remain at comfortable levels.
BUT IT'S NOT JUST LOW RATES. Other signs of easier financial conditions include the rally in stock prices, which gives companies greater access to equity financing. Also, the lower dollar makes U.S. assets more attractive to foreigners. And perhaps most important, investors sense a much less risky investment climate, suggested by the sharp narrowing in the difference in yields between corporate bonds and riskless Treasury bonds.
Put it all together, especially at a time when Corporate America is sitting on a mountain of cash, and it creates a potentially explosive combination for new mergers and dealmaking, in addition to an extremely growth-friendly climate.
To be sure, the Bush tax cuts also made possible a welcome dollop of demand in 2003. But as the fiscal stimulus faded in 2004, consumer and business spending did not weaken, as had been widely feared. Instead, consumers increased their buying at the same 3% clip as in 2003, and business outlays for new equipment and buildings grew almost 9%, nearly three times faster than in 2003. The reason for that strength is ready access to credit, equity financing, and a gusher of corporate cash flow.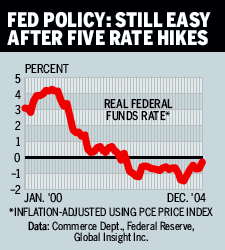 The momentum continued as 2004 ended. The Conference Board reported that its index of consumer confidence jumped almost 10 points in December to the highest level in five months. Monthly data through November and holiday sales reports suggest real consumer spending grew at an annual rate of 3% to 4% in the fourth quarter. Strong buying just before and right after Christmas also helped retailers' fortunes.
In addition, factories were busier. Industrial output rose for the second month in a row, and business demand for capital equipment continued to increase. Bookings for nondefense capital goods other than aircraft grew by 1.8% in November. And despite the drop in November housing starts, builders in early December were upbeat, as the National Association of Home Builders' survey rated market conditions the best in more than a year.
ONE REASON FOR BUILDERS' OPTIMISM is the current low level of long-term interest rates. At the end of 2004, the yield on 10-year Treasury bonds was about where it was a year earlier, despite the backdrop of solid economic growth, an uptick in inflation, and five quarter-point rate hikes taken by the Fed.
But to understand the bond market right now, you must look beyond the ups and downs in the economic data, oil prices, and the price indexes. Certainty reduces volatility. And a unique difference in this expansion is that the Fed has given the bond market an unusually clear road map for future Fed actions and inflation.
First, through a new openness toward policy, the Fed has put its pattern of interest-rate hikes on a gradual and predictable path. Ever since the Fed began lifting rates in June, the market has come to expect a quarter-point increase in the federal funds rate at almost every meeting, an expectation that should remain in place in 2005.
The Fed is moving toward even more openness in 2005. Policymakers will now release their minutes just three weeks after each meeting, instead of waiting six to seven weeks. This means that investors will be able to read the Fed's rationale for each policy decision before the next meeting rolls around. These timelier minutes could well become market movers. The first such report, on the Fed's Dec. 14 meeting, will be released on Jan. 4.
Second, the Greenspan Fed has achieved an unprecedented degree of credibility as an inflation-fighter. Inflation expectations are a critical component of bond yields. But despite above-trend economic growth, surging oil prices, and rising commodity prices, inflation expectations remain low -- and so have bond yields.
PERHAPS THE MOST ENCOURAGING sign that financial conditions will remain supportive is a new attitude toward risk, as seen in the sharp narrowing in credit-quality spreads. During the stock market bust, the recession, and the corporate scandals, the spread between a medium-grade, BBB-rated corporate bond and a riskless 10-year Treasury note widened to a record 3.2 percentage points. But by the end of 2004, that spread had shrunk to only 1.1 percentage points. That was the lowest since 1998 -- one of the go-go years of new public offerings and dealmaking.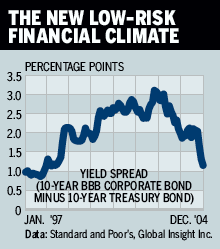 Of course, today's accommodative environment could quickly change should some new calamity, such as a sudden crash of the dollar, beset the economy. Another wild card for bond yields in particular is the degree to which foreigners, especially central banks, continue to buy U.S. Treasuries, most notably in their efforts to keep their currencies pegged to the greenback. Recent studies by economists at UBS Securities and by the Federal Reserve suggest that such purchases may tend to lower Treasury yields, although the extent of the impact is hard to pin down.
Despite these risks, U.S. financial conditions ranging from low interest rates, a declining dollar, and an upbeat stock market are the most supportive in many years. And with that heavy amount of financial lubricant greasing the economy's wheels, don't be surprised if the economy racks up another year of solid growth in 2005.
By James C. Cooper & Kathleen Madigan
Before it's here, it's on the Bloomberg Terminal.
LEARN MORE