Israel: A Bunch Of Blooms In The Desert
After the worst recession in the country's history, Israel is staging an economic comeback. A rise in global demand and dramatic improvement in the security situation helped real gross domestic product to grow by about 4% in 2004. And prospects for 2005 look equally good.
A 20% jump in exports led the 2004 recovery. Gains were especially strong in high-tech gear, such as software and semi-conductors, which account for half of Israel's industrial exports. Tourism, private consumption, and construction also added to growth.
The venture-capital industry, which closely tracks the high-tech industry, saw its own strong recovery. Investments in startup companies rose by nearly 50% in 2004, to $1.5 billion. The renewed interest in local startups has led Israeli venture firms to raise over $1.2 billion in new investment funds.
On the security front, progress was being made even before the Nov. 11 death of Palestinian leader Yassir Arafat. The partially completed fence, which runs mostly near the pre-1967 border, though controversial, has prevented many suicide bombings, and the Israeli army has had more luck in thwarting attacks.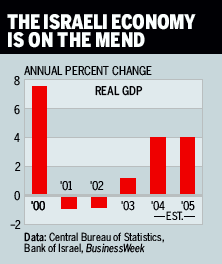 With the recovery under way, the jobless rate is inching down, though it remains high at 10.1%. Prices are rising by about 1%, giving Israel one of the lowest inflation rates globally. Better growth and low inflation has lifted the shekel to its highest exchange rate against the dollar in three years.
The shekel's strength has enabled the Bank of Israel to cut rates. On Dec. 27, the central bank trimmed its discount rate to a record low of 3.7%. Plus, the government cut spending and reduced the deficit from 5% of GDP in 2003 to about 3.5% in 2004.
In 2005, export growth is expected to ease up as a result of slower growth in most major global economies. This will be partially offset by an expected rise in domestic demand, so real GDP growth is set to be about 4% again in 2005. But private and government economists think the rate could be higher if security conditions continue to improve. One key sign to watch for: whether Israelis and Palestinians return to the negotiating table after the Jan. 9 Palestinian elections.
By Neal Sandler in Jerusalem
Before it's here, it's on the Bloomberg Terminal.
LEARN MORE