How AMG Is Growing Like Gangbusters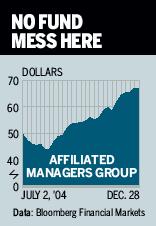 With the mutual-fund scandal ebbing and a record $330 billion in new cash plowed into stock and balanced funds during 2004 (according to early estimates from fund tracker Strategic Insights), shares of public money managers have surged. Prides Crossing (Mass.)-based Affiliated Managers Group (AMG ) rose 42%. Now at 67, the stock has legs, says Robert Lee of Keefe, Bruyette & Woods, a New York boutique investment bank specializing in financial services. AMG runs $110 billion in assets through its majority stake in 30 boutique money-management shops.
"Acquisitions are a key component to AMG's earnings growth," says Lee. Three deals in 2004 worth about $350 million are yet to affect AMG's earnings and stock price fully, he notes: emerging-market specialist Genesis Investment Management, growth shop TimesSquare Capital Management, and a first-ever hedge-fund firm, AQR Capital Management. Lee has upped his 2005 earnings forecast from $4 to $4.65 a share. Prudential Equity Group's (PRU ) John A. Hall has a 12-month target of 72. He figures every $100 million AMG invests in new firms adds 15 cents to 20 cents per share in annual cash earnings, and he recently upgraded it to "overweight."
Note: Unless otherwise noted, neither the sources cited in Inside Wall Street nor their firms hold positions in the stocks under discussion. Similarly, they have no investment banking or other financial relationships with them.
By Mara Der Hovanesian
Before it's here, it's on the Bloomberg Terminal.
LEARN MORE