Cognos: Business Intelligence Never Looked So Smart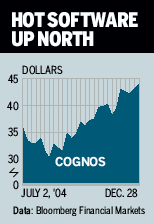 Canada's largest software company, Cognos (COGN ), stands to gain from the tech craze du jour: business intelligence (BI) software, say some savvy analysts. BI's Web-based software mines data among disparate systems to track such things as inventory and sales, then spits out full reports for managers to assess their businesses. Earnings rose 42% to a record $34.5 million, or 37 cents per diluted share, for Ottawa-based Cognos in its fiscal 2005 third quarter, ended Nov. 30.
The stock hit a 52-week high of 43.82 on Dec. 28, but it may go higher: Market researcher IDC says the $7 billion BI software market will double by 2006 and that half of info tech budgets are already earmarked to pay for such integration systems. Robert Schwartz of Jeffries likes the stock and has a 12-month target of 51. Standard & Poor's (MHP ) specialty software analyst Zaineb Bokhari says Cognos, recently upgraded to a buy, has unique off-the-shelf products, some marketed by IBM (IBM ) via special contract. North America generates 60% of sales. Incoming CEO Rob Ashe, a 20-year Cognos veteran, intends to hire up to 150 each quarter to drive sales worldwide.
Note: Unless otherwise noted, neither the sources cited in Inside Wall Street nor their firms hold positions in the stocks under discussion. Similarly, they have no investment banking or other financial relationships with them.
By Mara Der Hovanesian
Before it's here, it's on the Bloomberg Terminal.
LEARN MORE