Web Players Need What Keynote Has
By Gene G. Marcial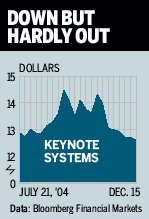 Internet stocks are back, but not Keynote Systems (KEYN ). Keynote measures how well a company's Web site performs in attracting and servicing customers. Clients include Yahoo! (YHOO ), Hewlett-Packard (HPQ ), and American Express (AXP ). The stock is down from nearly 15 in September to 12.60 on Dec. 15. The reason: its strong cash flow enabled it this year to make two acquisitions -- which usually causes selling of shares, at least initially.
But to John Buckingham of Al Frank Asset Management, which owns shares, Keynote is an eye-catching "value play with long-term growth prospects in a sexy industry." With no debt and a cash stash of $148 million, or $7.50 a share even after the two acquisitions, investors are paying just $5.50 for Keynote's business, says Buckingham. There's a further $30 million, or $1.50 a share, he adds, from its real estate. And he sees earnings growing to 28 cents a share for the year ending Sept. 30, 2005, and to 40 cents in fiscal 2006, up from 22 cents in 2004.
Eric Martinuzzi of Craig Hallum Capital Group, who rates Keynote a buy, says the pickup in earnings is partly driven by Keynote's consulting business that advises companies on how to keep online customers from defecting to rival sites. CEO Umang Gupta, who owns 10% of the stock, says this part of the business, now 35% of sales, has produced high margins and has grown rapidly.
Note: Unless otherwise noted, neither the sources cited in Inside Wall Street nor their firms hold positions in the stocks under discussion. Similarly, they have no investment banking or other financial relationships with them.
See Gene on Fridays at 1:20 p.m. EST on CNNfn's The Money Gang.
Before it's here, it's on the Bloomberg Terminal.
LEARN MORE