U.S.: Consumers Are Piling On The Presents
Rising employment and household wealth are bolstering spending
Consumers seem to be bustling through the holiday shopping season with an Alfred E. Newman attitude. Despite the burdens of high energy prices, low savings, and heavy debt, shoppers are saying "What me, worry?" as they head to the nation's retailers. Through November, retail sales are rising at the fastest quarterly clip since the beginning of the year.
But this willingness to spend is not based on cluelessness. Consumer resiliency is justified by two key supports: rising payrolls, which are generating more income, and increasing wealth, which also boosts households' ability to spend and borrow. That's why, despite all the hand-wringing over how consumers would bear up under all of this year's burdens, spending for the year is on track to rise about 3.5%. Not bad at all.
Consumer strength in the second half has been central to the resilience of the overall economy. For instance, industrial production had slowed this past summer, as businesses grew cautious about the possible negative impact of costlier oil on overall demand. But with consumers so steadfast, output is in catch-up mode, accelerating in the fourth quarter. And strong demand means that inventory gains are once again falling behind increases in sales. That's especially true at the retail level, suggesting continued additions to orders and output in coming months.
A good bit of U.S. demand is also benefiting foreign producers, given the October surge in imports. Nevertheless, while a wider trade deficit will be a drag on fourth-quarter growth, the economy remains on track to expand in the 3% to 4% range, a pace that seems likely to continue into 2005, especially given the 25% drop in crude-oil prices from their summer peak.
That pace is consistent with continued hikes in interest rates by the Federal Reserve. To no one's surprise, the Fed lifted its target rate for overnight borrowing by a quarter point on Dec. 14, to 2 1/4%. Policymakers also weighed in with a generally upbeat assessment of the economy. In that regard, the postmeeting statement was almost a carbon copy of the Fed's Nov. 10 announcement, although the policy committee did make a key procedural change. In another move toward greater transparency, the Fed will now publish the minutes of its meetings three weeks after a given meeting, instead of two days after the next scheduled meeting.
TO BE SURE, THE CONSUMER OUTLOOK is not free and clear. Energy costs are taking a bite out of household budgets, especially for lower-income families. And consumers may be facing a bit more inflation for other items over the coming year as companies push to raise prices to cover higher production costs.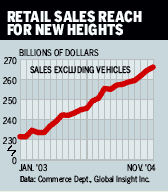 But for now, at least, shoppers are shrugging off any impediments during the holiday shopping season. Total retail receipts rose 0.1%, with a drop in vehicle sales accounting for the slim gain. Excluding cars, sales posted a broad 0.5% increase. In addition, the sales gains in October turned out to be greater than the Commerce Dept. initially estimated, with overall buying rising 0.8% and nonauto sales up 1.1%. For the first two months of the fourth quarter, nonauto retail sales are growing at an annual rate of 8.5% before price adjustment. Depending on how active shoppers are in December, real consumer spending in the fourth quarter appears to be on its way to an increase of about 4%, at an annual rate.
WHY ARE THESE NUMBERS SO UPBEAT when retailers are worrying about a dismal holiday season? First, chain-store sales track receipts from a narrow array of merchants, such as general merchandise stores, apparel stores, and discounters. The spending data compiled by the Commerce Dept. are different. Commerce surveys a wide range of vendors from grocery stores and Internet sites to restaurants and bars. Picking up a bottle of aspirin or filling the gas tank may not be what we mean when we talk about "going shopping," but to Commerce, such errands are a key part of retail sales.
Second, chain-store sales limit their comparisons to stores open at least a year. That allows them to calculate a percentage change in sales from the previous year that is consistent over time. But growth from the year before sometimes can say more about last year's sales strength than this year's. For example, 2003's yearend shopping was lifted by tax cuts and rebate checks. That boost in sales will make it tougher to show a big gain when chain stores tally their 2004 receipts. Commerce surveys stores no matter how long they have been opened, and it looks at sales from month-to-month, adjusted for seasonal patterns.
TO UNDERSTAND WHY consumers are holding up so well, consider two trends over the past year: Household income from wages and salaries, some 60% of overall personal income, has grown 5.1%, nearly two percentage points faster than inflation. This time last year, wages-and-salary incomes were growing only 3.7%. The difference: More people are at work. In 2003 payrolls made no headway, but in 2004 payrolls appear to have risen by two million workers.
In addition, household net worth is also soaring. The Fed's latest data on the balance sheet of Household America show that net worth -- the value of all assets minus liabilities -- rose by $546 billion in the third quarter, capping an increase of $4.3 trillion over the past year. In fact, household wealth is rising at a pace that matches the gains seen in the late-1990s.
After the stock-market bust, net worth fell erratically for three years. But since bottoming out two years ago, it has grown by $8 trillion, driven by a $9.8 trillion increase in assets. That gain was more than five times greater than the $1.9 trillion rise in household liabilities. The increase in assets breaks down to about 40% coming from tangible assets -- mainly rising home values -- and about 60% stemming from fatter financial assets.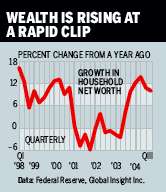 Stronger balance sheets lessen the importance of the official measure of personal savings as a guide to consumers' well-being. So far in 2004 savings have averaged 0.9% of aftertax income, the lowest ever. But that measure only considers what remains of household income after subtracting the income that has been spent in a given period. In recent years, households have chosen to save in other ways. For example, rising home values are clearly an untapped source of savings for many consumers.
The enormous increases in asset values over the past two years give households plenty of collateral to take on more debt. Moreover, households are managing their debt service well. Despite the big rise in debt over the past two years, debt service as a percentage of aftertax income, while at a high level historically, is lower now than it was two years ago, thanks to the pickup in income growth.
The gains in income as well as wealth explain why check-out lines might be long this holiday season. What's more important is that as long as job growth holds steady and the Fed moves gradually, consumers won't have to turn into Scrooges when 2005 begins.
By James C. Cooper & Kathleen Madigan
Before it's here, it's on the Bloomberg Terminal.
LEARN MORE