As part of its anniversary celebration, BusinessWeek is presenting a series of weekly profiles of the greatest innovators of the past 75 years. Some made their mark in science or technology; others in management, finance, marketing, or government. For profiles of all the innovators we've published so far, and more, go to www.businessweek.com/innovators/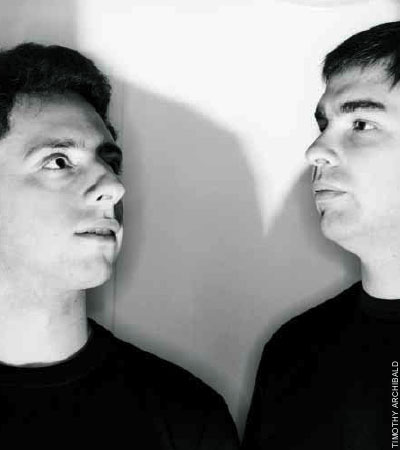 In 1999, when net mania had reached an unbridled frenzy of sock puppets and paper millionaires, a pair of unknown computer scientists often stayed up late pondering Star Trek. Larry Page and Sergey Brin, who had dropped out of Stanford University's computer-science PhD program to found a little-known search company in Palo Alto, Calif., mused about building a tool like the USS Enterprise's omniscient computer. The all-knowing voice would always deliver the precise answer to any question in a fraction of a second.
What started out as youthful daydreaming has blossomed over the past half-decade into a 3,000-person company that's changing the world of information. Channeling the knowledge in billions of Web pages through its simple-to-use site, Google (GOOG ) has put acres of information at its users' fingertips. Instantly offering insight into information on anything from cold symptoms to potential blind dates, the search giant has spawned an Internet phenomenon, with 650 million searches each day. At the same time, its ability to pinpoint people looking for "Chicago locksmith" or "Caribbean vacation" has advertisers flocking to the Web.
Page and Brin, both 31, were unlikely candidates to transform the budding Net field. For starters, Yahoo! Inc. (YHOO ) had established itself as the first widely popular search engine in 1995 -- while Page and Brin were just getting acquainted at Stanford. In addition, the two headstrong engineers didn't exactly hit it off. "When Sergey and I met, we both thought the other was really obnoxious," Page told BusinessWeek earlier this year.
But as the duo began collaborating, they saw huge opportunities in improving the search experience. Early search engines, which sorted pages by analyzing words and their positions within a document, were quickly proving inadequate as the Web expanded. Page and Brin were convinced that the links connecting billions of Web sites could provide an answer. Just as the success of a patent often is measured by the number of times it's cited by other patents, Page and Brin felt that a Web page pointed to by 500 different sites would be more valuable than one with just five incoming links. Simply put: They turned Web searches into a giant popularity contest.
Although Page and Brin weren't the first to ponder this solution, they were the first to crack the computing and math challenges behind such link analysis. They built a precursor to Google, powered out of Page's Stanford dorm room. After shopping the technology around and finding no takers, Page and Brin set up shop in a friend's garage in mid-1998.
Although the Google founders were sure their technology was a quantum leap forward, they had no clue how to turn it into a business. Initially they scorned the notion of accepting ads. But after a competitor began selling ads around search results for sizable profits, Google followed suit. Its superior technology brought in hordes of users, igniting ad sales. Today, Google is a $2 billion advertising juggernaut, with marketers clamoring to nestle their ads alongside its search results.
With success has come plenty of challenges. Google's stock has doubled, to $170, since its August initial public offering. That price reflects tall expectations, particularly with Yahoo and Microsoft Corp. (MSFT ) charging ahead in search. Regardless of how Google fares, however, its founders' innovation is clear. We can find out more, and find it more easily, than ever before.
By Ben Elgin
Before it's here, it's on the Bloomberg Terminal.
LEARN MORE