Kellogg: A Little Payoff In The Box?
With breakfast cereal, is there more value inside the box or on the outside? Don't laugh. At my local market, 18 ounces of Shur Fine corn flakes cost $1.69. The same size box of Kellogg's Corn Flakes costs $3.69, 118% more, although the Kellogg's package does feature pictures of Aladdin and the Genie. The corn flakes come as a bonus.
If there are limits to how hard a company can sell packaging over product, Kellogg (K ) is stretching them. Right now, it's pushing a "Limited Edition" multigrain cereal called The Incredibles (10.5 ounces inside a $2.79 box), part of a joint promotion with Walt Disney (DIS ) and Pixar (PIX ), makers of the hit movie of the same name.
Such new frontiers in marketing -- a key element in outgoing Chief Executive Carlos Gutierrez' strategy -- have helped boost revenue 5.3% this year, not counting currency moves. Better yet, as cost cutting widens margins, full-year profits should be near $2.12 a share, up 10% or so from 2003. Since Gutierrez became chairman in April, 2000, the stock has doubled.
NO WONDER, THEN, that the share price began wobbling after President George W. Bush named Gutierrez his next Commerce Secretary. Yet this may be an overreaction, because Kellogg has plenty of substance within, whoever's face is on the corporate package. New CEO James Jenness, who joined Kellogg's board in 2000, is making it plain he plans to stay on Gutierrez' course. More important, the company has the means to reward investors further. Kellogg has ample room to raise its dividend, and I'm betting it will before long.
To see why I'm optimistic about Kellogg's payout, let's look closer at the Battle Creek (Mich.) company. It's still the world's largest cereal maker. Yet Kellogg is also selling lots of foods for other times of the day. Not only is it the maker of Morningstar Farms-brand meat substitutes (think veggie burgers), but it also paid $4.6 billion in 2001 to buy cookie giant Keebler. Kellogg borrowed heavily to swing the deal, and the burden of paying a much bigger interest tab put an end to its annual custom of raising the dividend.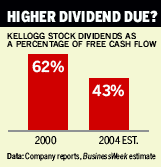 Now, more than four years since Kellogg last hiked the payout, its balance sheet looks like it has been dining on Special K. Debt, which topped more than $6.2 billion at the end of 2001 and made up 88% of capital, had been worked down to less than $4.9 billion, or 72% of capital, by Sept. 30 this year. Meantime, Kellogg's free cash flow -- cash from operations, minus capital spending -- is surging. In 2002, the year Kellogg's interest expenses peaked, free cash flow came to $746 million. This year the company expects free cash flow of $925 million to $1 billion. Assume the midpoint of that range, and Kellogg is set to pay out 43% of its 2004 free cash flow. Before buying Keebler it paid out 62%.
So where has the extra dough gone? Kellogg has used it to pay back some borrowings -- an estimated $300 million this year -- and to fund $300 million worth of stock repurchases in 2004. For next year, Kellogg has budgeted an additional $400 million for buybacks. But those aren't the only uses Kellogg's board has in mind. A spokesman told me the board aims to use free cash flow in a balanced program of debt reduction, share repurchases, acquisitions -- and an attractive dividend yield. It's well on its way toward the first two items in that program. As for the third, it's a risk. Dealmaking continues in the packaged foods industry -- witness Wrigley's (WWY ) recent agreement to buy several candy lines from Kraft Foods (KFT ) -- and Kellogg certainly could blow its fresh liquidity on another major acquisition.
Yet with Kellogg shares near $43, its current $1.01 annual dividend makes for a 2.3% yield. Kraft yields 2.3%, General Mills (GIS ) 2.6%, H.J. Heinz (HNZ ) 3%, and Sara Lee (SLE ) 3.3%. Suppose Kellogg wants to get nearer, say, to General Mills's 2.6% yield. What would it cost? A manageable $53 million or so. It could be a special bonus inside the box.
Before it's here, it's on the Bloomberg Terminal.
LEARN MORE