Alltel: Expecting A Call?
By Gene G. Marcial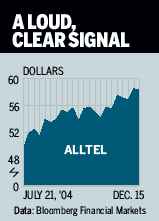 Now that Sprint (FON ) has agreed to buy Nextel (NXTL ), one outfit wired as the next takeover, some say, is Alltel (AT ), a Little Rock provider of telecom services, mainly in small towns and rural markets. "Its widely used CDMA [code division multiple access] wireless technology makes it a natural target for Verizon -- also a user of CDMA," says Tavis McCourt of investment firm Morgan Keegan (RF ). Verizon, he says, would profit from its "substantial customer base and extremely profitable operations." Earlier, Verizon was rumored to be interested in Sprint, but a Verizon-Sprint deal would have faced tough going with regulators, as the duo would control nearly 40% of the wireless market. Now, Alltel is the largest asset left to buy.
Acquiring Alltel, with its 8.4 million subscribers, would boost Verizon (with 42 million) to a 32% market share, making it No. 1. Cingular is now tops, with 46 million. (Sprint-Nextel will have a combined 34 million.) Verizon and Alltel already have close ties: Alltel lets Verizon offer its subscribers roaming access to its rural network, and Alltel, in turn, offers Verizon's national services to its users. The stock, now at 58.25, is worth 70 in a buyout, says McCourt. David Barden of Banc of America Securities (BAC ), who rates Alltel a buy, figures it will earn $3.31 a share in 2004 and $3.55 in 2005, vs. $3.05 in 2003. Alltel and Verizon declined comment.
Note: Unless otherwise noted, neither the sources cited in Inside Wall Street nor their firms hold positions in the stocks under discussion. Similarly, they have no investment banking or other financial relationships with them.
See Gene on Fridays at 1:20 p.m. EST on CNNfn's The Money Gang.
Before it's here, it's on the Bloomberg Terminal.
LEARN MORE