U.S.: Job Growth That Is Just Good Enough
Despite a weak November, the labor market is giving a boost to the economy
If the economy moved in a straight line, a forecaster's job would be simple. But growth comes in both baby steps and giant leaps. That's why the November job gain, while less than expected, is not alarming. The Labor Dept.'s report that only 112,000 jobs were created last month raised fears that the economy has sunk into another soft patch. The November showing was especially disappointing because the October report, which showed job gains of more than 300,000, seemed to confirm that the U.S. economy had finally shifted into a robust hiring mode.
But the October jump is exactly why November's small gain does not mean the U.S. economy is faltering. Taken together, the two months' data show job growth is running at a hefty 207,500 per month so far in the fourth quarter. And so far this year, job growth has averaged 185,000. That pace is in line with an economy growing at an annual rate of 3.5% to 4%. Other data, such as the activity indexes from purchasing managers in both manufacturing and service industries, also indicate that the economy is doing well in the fourth quarter and that 2005 will be off to a good start.
A key problem in interpreting this recovery has been the tendency to focus on the economy through the lens of employment growth. But the upshift in productivity has created a new jobs cycle and changed -- maybe forever -- how employment enters the economic equation. The result is that job growth is now slower, but economic growth is strong, unemployment is a low 5.4%, and workers' real wages in this recovery have risen. At the same time, the growth in the labor force has slowed, meaning that even a more subdued pace of job creation will be strong enough to reduce the unemployment rate further in 2005.
THE MAJOR PROBLEM for consumers right now is not the labor markets. It's costlier energy. Recent reports on holiday shopping show that store sales in the first week in December were up only about 2% from their year-ago readings. That tepid showing reflects both higher energy prices and the high level of year-ago retail sales, which were boosted by tax cuts. Gasoline prices, for example, are 30% higher than a year ago. Perhaps fearing that shoppers would not be out in force in November, retailers shed 16,000 jobs from their payrolls last month.
The squeeze on budgets is one reason why consumers seem to be waiting for retailers to start discounting again. What may determine the final tally for holiday sales is whether oil prices keep falling -- gasoline prices have already dropped 6% from mid-October to early December -- and whether stores resort to heavy discounting in late December. That would tend to lift price-adjusted consumer spending, though at a cost of slimmer profit margins for retailers.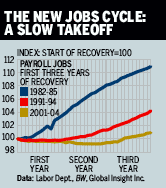 November's hiring gains, while soft, were also widespread across the economy. More than 50% of industries added workers in November, the 11th straight month in which at least half of the industries surveyed did so. One exception, however, was manufacturing. Payrolls there fell 5,000, the third drop in a row. Nevertheless, those losses come at a time when factories are getting busier. The Institute for Supply Management said its industrial-activity index rose to 57.8% in November, from 56.8% in October. Both orders and production stood at lofty levels.
What's happening is that almost all of the gain in factory output this year has come from increased productivity, not more jobs. This split is part of an economywide trend that explains why employment won't grow as strongly in 2005 as it did in the 1990s.
INDEED, THE DISAPPOINTING GAIN in November payrolls refocuses attention on the unusually slow pace of job growth in this recovery, which celebrated its third anniversary last month. Even after three years, payrolls have increased by only 0.9%. That's well below the 4.2% gain racked up in the first 36 months of the 1991-94 recovery, which included this country's first brush with a "jobless recovery." The comparison with the 1982-85 post-recession period is even more striking. Back then jobs grew by 10.9%.
Bear in mind that the link between job growth and economic growth is not as strong as it once was. That's because the technology revolution and intense global competition have led companies to rely more on productivity gains and less on payroll increases to generate most of the gains in output. So far in the current recovery productivity has grown at a 4.2% annual rate, nearly twice as fast as the 2.4% yearly pace three years into the 1991-94 recovery. But at the same time, real gross domestic product has grown at a 3.5% annual rate in this recovery, slightly faster than the 3.1% pace in the first three years of the 1991-94 upturn.
Moreover, increased productivity has allowed today's companies to grant bigger pay gains, after adjusting for inflation, to their existing employees than businesses did in the two previous recoveries. Even with this year's energy-driven spike in inflation, real hourly pay in November was a shade higher than at the start of the recovery. By contrast, in the first three years of the recoveries in the early '80s and '90s, real hourly pay fell, even while inflation was easing. Looking ahead, with the labor market tightening and oil prices falling back, expect pay raises to outrun inflation at a faster clip in early 2005.
THE LATEST EMPLOYMENT REPORT also dispels the notion that higher productivity is simply throwing a lot of people out of work. Last month's 5.4% jobless rate is exactly the same rate posted in March, 1995, three years into the '90s expansion.
Also, growth in the labor force has slowed to an annual rate of 0.9% over the first three years of recovery. That's partly the result of slower growth in the adult population, and it means that fewer new jobs are needed to keep up with the influx of job-seekers. So if job growth in 2005 merely matches the 2004 trend of 185,000 per month, hiring will exceed growth in the labor force, and the unemployment rate could sink below 5% by yearend.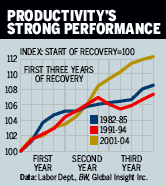 The latest labor force data also argue against the notion that the current job market is in bad shape because today's labor-force participation and unemployment rates don't match the impressive readings of the late 1990s. But it's important to remember that in the late '90s the hyped-up economy and welfare reform drew many people into the labor force who would not normally have sought work. In the five years ended in 2001, the labor force grew at a 1.6% annual rate, well above the 1% trend in the previous five years, which is closer to today's growth rate.
The performance of the labor markets in the late '90s was a historical anomaly. Today's employment patterns are readjusting back to the norm. True, the jobless rate probably won't dip below the 4% rate it hit back then. But heading into 2005, the labor markets are generating enough jobs and incomes to keep consumers spending at a healthy clip -- and the economy chugging along.
By James C. Cooper & Kathleen Madigan
Before it's here, it's on the Bloomberg Terminal.
LEARN MORE