Suddenly, Sipex Looks Ripe For A Buyout
By Gene G. Marcial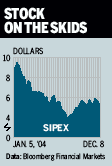 Sipex (SIPX ) is a promising turnaround play in semiconductors -- and a likely takeover bet, too. So say some pros who have been buying shares on rumors that the abrupt Dec. 7 departure of CEO Walid Maghribi moves Sipex closer to being bought out. Sipex makes integrated circuits for manufacturers in the computer and telecom industries. Sipex says Maghribi quit after a disagreement with the board on strategy. "Future Electronics [a Canadian distributor of electronic components in 35 countries], which owns 48% of Sipex, wants to scrap a standstill pact so it can raise its stake," says one big investor who didn't want to be named. The idea, he adds, is to turn Sipex around and then sell it.
Sipex has been losing money since 2001, and its stock has been on the skids -- from 9.41 on Jan. 16 to 4.62 now. In a buyout, the stock is worth 10, says the investor. Robert Adams of Adams Harkness agrees the resignation could pave the way for more aggressive measures -- and could clear the way for a sale of Sipex. "We believe any such action would be a positive move for the shares," says Adams. Sipex, he adds, remains "a hopeful turnaround story." Sipex' optical storage device is a key component in the new generation of DVDs that will come out in 2005. And Sipex interim CEO Douglas McBurnie says the storage device will boost revenues substantially. He denies any plans to sell Sipex.
Note: Unless otherwise noted, neither the sources cited in Inside Wall Street nor their firms hold positions in the stocks under discussion. Similarly, they have no investment banking or other financial relationships with them.
See Gene on Fridays at 1:20 p.m. EST on CNNfn's The Money Gang.
Before it's here, it's on the Bloomberg Terminal.
LEARN MORE