By Gene G. Marcial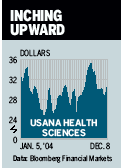 When USANA Health Sciences (USNA ) fell to the low 20s in April, Jason Schrotberger of Turner Investment Partners snapped up shares -- convinced that demand for its nutritional supplements would ramp up. He was right: The stock popped to 35 in October as sales of its products -- including adult vitamins with Mega Antioxidant -- jumped. USANA also makes skin products, accounting for 15% of sales.
Scott Van Winkle of investment bank Adams Harkness, which has done business with USANA, notes that USANA, like Avon Products (AVP ), hires "associates" to sell direct to customers. Van Winkle, who rates the stock, now at 30.50, a buy, sees 2004 revenue growth of 35%, to $269 million, and earnings of $1.46 a share. For 2005, he expects $308.5 million and $1.80. Van Winkle is upbeat on USANA's reformulated skin-care product, Senseacute;, which will be marketed as being free of harmful chemicals. When it launches in 2005, he expects sales to rocket. (His 2005 earnings figure doesn't include Senseacute;.) Turner's Schrotberger sees higher 2005 earnings -- of $1.85 to $1.90 a share. For 2006, he forecasts $2.50, which includes projected Senseacute; sales. His price target: 40 to 45 in 2005 and 60 in 2006.
Note: Unless otherwise noted, neither the sources cited in Inside Wall Street nor their firms hold positions in the stocks under discussion. Similarly, they have no investment banking or other financial relationships with them.
See Gene on Fridays at 1:20 p.m. EST on CNNfn's The Money Gang.
Before it's here, it's on the Bloomberg Terminal.
LEARN MORE