U.S.: Businesses Are Betting On A Happy New Year
Companies feel better about the future and are ready to expand
Businesses appear to be casting off their summer caution, and that's good news for 2005. Earlier this year, the oil shock and election uncertainty clouded the outlook, causing companies to delay some of their inventory-building, capital projects, and hiring until the future was a little clearer. Now, companies seem to like what they see, especially the rebound in consumer spending and the lower dollar, which will provide a boost to exports and profits.
As a result, Corporate America is gearing up once again. Just look at the rising trends in industrial orders and output, suggesting that companies are responding to the stronger pace of demand. More important, companies appear to be interested in expanding their operations, not just in replacing tired old computers or machinery. Growing payrolls are another key sign that, despite the high cost of hiring, businesses are feeling better about the future and are willing to expand. All this is supporting economic growth this quarter, and the momentum should carry over into the new year.
The reason businesses are increasingly willing to shell out more for equipment and payrolls is evident in the details of the Commerce Dept.'s Nov. 30 update on third-quarter real gross domestic product. Based on more complete data, Commerce says the economy grew at a 3.9% annual rate over the summer, instead of the 3.7% pace originally reported last month. And while the overall revision to the past was small, the underlying data show a sharp upward shift in prospects for the future.
As it turns out, overall demand last quarter was stronger than first reported. Spending in all sectors -- consumer, business, government, and foreign trade -- grew at a 4.9% annual rate. That's up from the 4.2% pace in the initial data and the best showing of the year. At the same time, businesses built up their inventories by less than first estimated. With inventories lean, output will have to be boosted to meet rising demand. And that's just what's happening, based on the November gain in the Institute for Supply Management's index of industrial activity. All this implies further growth in jobs, income, and spending.
THIS VIRTUOUS CYCLE explains why many companies are starting to look at expansion plans. The Business Roundtable's latest CEO Economic Outlook Survey shows that executives expect the economy to grow at a healthy pace in the first half of 2005. Moreover, 50% of the CEOs surveyed expect their companies to increase capital spending in the next six months. That percentage is well above the 35% from this time last year, and it has risen steadily in each quarter this year.
The upturn in capital spending got its start when companies began to replace aging, short-lived tech equipment. During the first two years after the recession ended, spending on information-processing gear accounted for 70% of the growth in overall equipment outlays.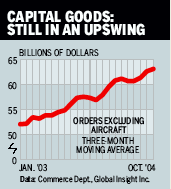 But in the past year, with industrial operating rates rising and with demand strengthening, businesses have boosted their spending for more traditional machinery and equipment. Third-quarter business outlays for all types of equipment and software, adjusted for inflation, increased at a sturdy 17.2% annual rate, faster than the 14.9% pace first reported. Outlays for info-processing equipment slowed last quarter, but spending on nontech items accelerated sharply. Industrial machinery was up 27.2%, the best showing since Commerce started keeping quarterly records on such spending in 1990. Transportation equipment soared 35.4%, the largest quarterly gain in nearly six years. And spending on all other nontech items jumped 22.9%. As a result, in the past year nontech equipment has accounted for nearly 60% of the growth in all equipment outlays.
THAT TREND IS CONTINUING this quarter. Machinery orders posted a strong gain in October, the third in a row, while transit equipment saw a small rise. Total orders for capital goods, excluding aircraft, fell 3.6%, but that followed a 5.2% jump in September. Looking past the monthly ups and downs, the trend in orders is clearly on the upswing, following the summer pause. In addition, shipments of capital goods began the quarter with a hefty gain, suggesting business outlays are on track to post another solid advance this quarter.
Despite the recent interest-rate hikes by the Federal Reserve, financing this spending won't be a problem. Corporations have enough cash flow to cover all their capital outlays and then some. True, profits will grow more slowly as costs rise, but that's compared with the superstrong pace of recent quarters. Third-quarter profits from current production, as measured by Commerce, fell 2.4% from the second quarter, and the growth from the previous year slowed to 8.4%, vs. 19% in the second quarter. But hurricane-related payouts by insurance companies and uninsured losses subtracted nearly $80 billion from the total. Excluding that, profits last quarter would have grown 4.4% from the second quarter and 16% from the year before.
A more critical question mark for capital spending is the yearend expiration of the 50% "bonus depreciation" allowance granted companies in the 2003 tax package. Businesses have an incentive to get their spending done before Dec. 31, and the worry is that any bunching of outlays may borrow from spending in early 2005.
But a survey of companies done by the Philadelphia Federal Reserve Bank, along with the latest reading of spending plans in the Business Roundtable survey, suggest little if any impact. Moreover, the level of unfilled orders for capital goods continues to trend higher, suggesting further gains in shipments are on the way.
COMPANIES HAVE TO BE PLEASED by the way consumers have bounced back from the initial impact of the oil shock. Commerce now says consumer spending grew at a 5.1% annual rate last quarter, the strongest advance in nearly three years. Clearly, higher energy prices have hit households. But important offsets are coming from better job growth, which is boosting incomes, and sizable gains in household wealth, which is lifting borrowing power.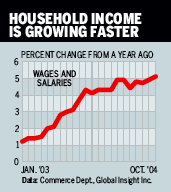 Last quarter's spending increase is a reminder that consumers' actions don't always line up with how they say they feel. The Conference Board's index of consumer confidence has fallen steadily since July. In November it slipped to 90.5 from 92.9 in October. And for the second month in a row, households said they have diminished expectations for the future. But October non-auto retail sales were strong, and the holiday shopping season appears off to a decent start.
The continued upbeat trend in demand, the ongoing rise in capacity utilization, the excellent financial condition of corporations, and the rebound in outlays for traditional machinery all support the notion of a positive outlook for capital spending. And historically, capital spending and job growth have moved in tandem. Given that combination, the economy is most likely on its way to a happy -- and prosperous -- new year.
By James C. Cooper & Kathleen Madigan
Before it's here, it's on the Bloomberg Terminal.
LEARN MORE