The S&P Shuffle: Make Way For News Corp.
Who is Rupert Murdoch's next victim? Not even the shrewd mogul from Down Under knows. At 4 p.m. on Dec. 17, as the New York Stock Exchange bell clangs an end to trading, his News Corp. (NWS ) will join the Standard & Poor's 500-stock index. That means some unlucky company will have to make way for Murdoch.
But which one? An S&P committee of economists and analysts, which decides who joins or exits the list of 500 leading U.S. public companies, isn't telling until the week of Dec. 12. "Somebody will come out. That's all I can say," the panel's chairman, S&P Managing Director David Blitzer, told me. More than $1.2 trillion directly tracks the S&P 500, so any change sets off a trading frenzy. That's why the name is top secret at S&P (like BusinessWeek, one of The McGraw-Hill Companies (MHP )) and a focus of speculation.
SO LET'S SPECULATE. To start, I'll go out on a limb and bet we can omit McGraw-Hill from a list of potential outcasts. That leaves just 499 other possibilities. We also likely can eliminate companies with the highest market capitalizations, say of $50 billion or more. As it happens, the day I checked there were exactly 50 such leaders, from market-cap giant General Electric ($382 billion) down to Goldman Sachs Group ($50 billion). With a $51.6 billion market cap, News Corp. would have made this top decile were it already a member of the index.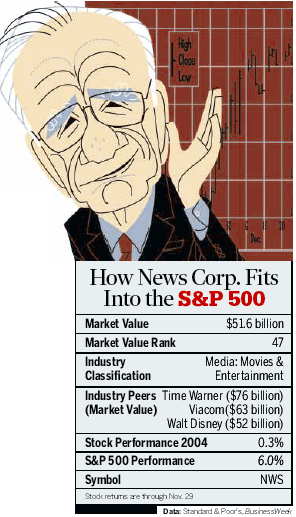 News Corp. only became eligible to join the S&P 500 after Nov. 12, when it moved its corporate domicile and its shares' principal trading market to the U.S. from Australia. To make room, S&P will follow a few stated criteria. First, companies in mergers or major makeovers are prime candidates for delisting. Companies also become vulnerable when they no longer clear the hurdles for initial inclusion, such as market value and trading liquidity. The absolute dollar value of a stock also matters. Too low a price impedes trading as some investors shun penny stocks; too high a price (think the $84,000 a share Berkshire Hathaway (BRK ) recently fetched) hurts, too. Other criteria: what S&P calls "financial viability, " or steady profits, and "sector balance," or keeping the list reflective of how investors value various parts of the economy.
Given all this, I searched for possible casualties. PeopleSoft, which is being chased by an acquisitive Oracle, is one possibility. Sears (S ), whose board has approved a merger into Kmart Holding (KMRT ), is another. There are no obvious media stocks that News Corp. might elbow aside, but the media industry is in the economy's consumer discretionary sector, and there two names stand out: Toys "R" Us (TOY ), which is looking to split its toy retailing unit from its Babies "R" Us furnishings and apparel chain, and OfficeMax (OMX ), which joined the list as Boise Cascade. Huh? Boise bought office supplier OfficeMax in 2003 but then sold its forest-products lines and took the OfficeMax name. You have to wonder, with Staples (SPLS ) (market value: $15.8 billion) and Office Depot (ODP ) ($5.1 billion) already in the index, is OfficeMax ($2.7 billion) really necessary?
Then, there are those companies with stock prices below $5. The other day, I counted seven: ADC Telecommunications (ADCT ), Applied Micro Circuits (AMCC ), Calpine (CPN ), Ciena (CIEN ), JDS Uniphase (JDSU ), Lucent Technologies (LU ), and Qwest Communications International. Ciena looks particularly weak. Wall Street expects the telecom gear maker on Dec. 9 to post its 13th straight quarterly loss.
The S&P 500 might say good riddance to shamed insurance broker Marsh & McLennan (MMC ) if good corporate citizenship were a criterion. But it's not. The index aims to reflect the market and economy as they are. Step right in, Mr. Murdoch.
Before it's here, it's on the Bloomberg Terminal.
LEARN MORE