Given Imaging: A Camera You Can Swallow
By Gene G. Marcial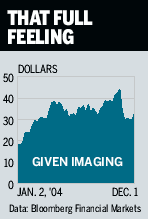 Embedded in a pill, a tiny wireless camera called PillCam, made by Israel's Given Imaging (GIVN ), is electrifying some investors. It lets a doctor examine a gastrointestinal tract noninvasively, taking pictures to find abnormalities. "I bought Given stock fast when I learned of PillCam: It has huge potential for other diagnostic uses," such as cancer of the esophagus, says Marion Schultheis of investment outfit J&W Seligman. Shares bolted from 15 last December to 32.45 on Dec. 1. Johnson & Johnson (JNJ ) is Given's marketing partner for PillCam. Wade King of Wells Fargo Securities (WFC ), which has done banking for Given, expects revenues of $60 million in 2004, $86 million in 2005, and $121 million in 2006, vs. $40 million in 2003.
On Nov. 29, the Food & Drug Administration approved an upgraded version called PillCam ESO that takes 14 frames per second instead of four. Swallowed with water, PillCam goes into the stomach, where it can spot precancerous conditions related to acid reflux. Images are sent to a Walkman-like recorder taped to the patient's abdomen. Schultheis expects Given to earn 6 cents a share this year, 53 cents in 2005, and $1.02 in 2006. Bernie Schaeffer of Schaeffer's Investment Research says the stock's momentum shows Given could double in a year.
Note: Unless otherwise noted, neither the sources cited in Inside Wall Street nor their firms hold positions in the stocks under discussion. Similarly, they have no investment banking or other financial relationships with them.
See Gene on Fridays at 1:20 p.m. EST on CNNfn's The Money Gang.
Before it's here, it's on the Bloomberg Terminal.
LEARN MORE