Canada: A Stronger Currency Is Curbing Growth
Canada is seeing how a strong currency can tap the brakes on economic growth. But unlike central banks elsewhere, the Bank of Canada seems to welcome the slowdown.
Third-quarter real gross domestic product expanded by 3.2%. Growth was curbed by a drop in exports, the first quarterly decline in a year, following rapid increases in the first half. The fall reflected a slowing in auto shipments and a stronger Canadian dollar, which has surged some 28% against the U.S. dollar since 2002.
Although the GDP increase was less than economists had expected, it marked the fourth quarter in a row in which real GDP grew above its 3% potential rate, the pace the economy can grow without generating inflation pressures. In late November, Bank Governor David A. Dodge told the Senate that the first-half gain in exports meant the economy is now "operating near its production capacity." As a result, inflation pressures could be building.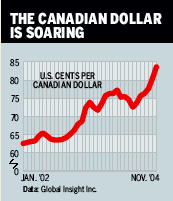 In October energy prices pushed overall yearly inflation to 2.3%, above the bank's 2% midpoint target. The core rate, which excludes volatile items including food and energy, stood at 1.4%, down from September's 1.5%. What worries policymakers is that, with the economy carrying little excess capacity, inflation will not slow next year as the BOC expects.
Despite the third-quarter slowdown, Dodge's comments support the view that the BOC will raise its target for the overnight rate by a quarter-point, to 2.75%, at its Dec. 7 meeting. It would be the third hike in four months.
But policymakers are well aware that the strong dollar is doing some of the work needed to put a brake on growth. As the GDP report shows, the increase is curbing foreign demand for Canadian goods, especially from the U.S., which buys 80% of its northern neighbor's exports. And Canadian exporters are finding it harder to compete against American companies in emerging nations.
Because of the currency's drag on exports, analysts are revising their forecasts for monetary policy. Instead of a steady string of hikes in 2005's first half, which would follow the expected path of the Federal Reserve, the Bank of Canada may only have to raise rates once or twice next year.
By James C. Cooper & Kathleen Madigan
Before it's here, it's on the Bloomberg Terminal.
LEARN MORE