South Korea: A Bad Situation Is Set To Get Worse
South Korea's struggle to regain its economic health is getting tougher, and the prognosis is not encouraging. Already beset by falling consumer demand, the economy now faces the prospect of slower growth in exports, and overall growth seems likely to weaken further in 2005.
Real gross domestic product in the third quarter grew at an annual rate of 2.6% from the second quarter and 4.6% from a year ago. The government conceded that growth in the fourth quarter may be even slower. The third-quarter advance was weaker than it looked, given that two key pluses were slower growth in imports, which shows weaker domestic demand, and a gain in inventories, which appears to have been unintended.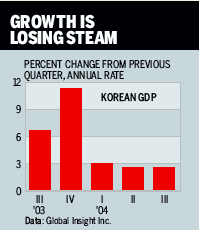 Consumer spending declined last quarter for the fifth quarter in a row, reflecting the continued fallout from the bursting of the credit bubble two years ago, leaving 16% of the population delinquent in their repayments. Spending is unlikely to rebound anytime soon: Consumer confidence fell to a four-year low in October. Real wages have slowed sharply as inflation has picked up to 4%. And joblessness of 3.5% is close to a three-year high.
More important, exports rose by the smallest amount in three years, pulled down by slower global growth, cooler tech demand, and a strong currency. The Korean won is up some 12% vs. the dollar this year, touching a seven-year high in mid-November. Exports will slow further as China, Korea's main export destination, tries to rein in its economy. Even when export strength returns, labor markets may not benefit, since a large portion of Korean factory output has been relocated to China. Korea's long-term challenge is to find a way to compete without hollowing out its manufacturing base.
For now, policymakers are boosting government spending while cutting taxes and interest rates, but to little avail, as households try to build up their low savings and pay off existing debts. Economists expect growth to slow from 4.9% this year to 4.4% in 2005. But unless consumer spending stabilizes, the slowdown could be sharper. And as officials acknowledge, the economy must grow at least 5% to generate enough jobs to absorb a growing labor force.
By James C. Cooper & Kathleen Madigan
Before it's here, it's on the Bloomberg Terminal.
LEARN MORE