Japan: Pinning Hopes On Consumers
Japan's economy stumbled in the third quarter. A deceleration in foreign demand was the main culprit, and a sudden turnaround in exports appears unlikely. That puts the economy in the unexpected position of having to rely on consumers as the source of growth for the time being.
Third-quarter real gross domestic product grew by an annualized pace of 0.3%, down from 1.1% in the second quarter, which was below the first quarter's 6.3%. A lower net export surplus cut two-tenths of a percentage point off growth, the first such subtraction in two years.
Manufacturers are seeing a slowdown in demand not only from abroad but also from reduced domestic capital outlays. Business investment was off by 0.9% in the third quarter.
Conditions are not likely to change much heading into 2005. On Nov. 16 the government's Monthly Economic Report said "weak movements" in the economy have emerged. Machinery orders fell 8.4% in the third quarter. Plus, a nearly 6% rise in the yen vs. the U.S. dollar since September is raising concern about export growth to its largest market. Some officials are hinting at possible intervention in the currency markets.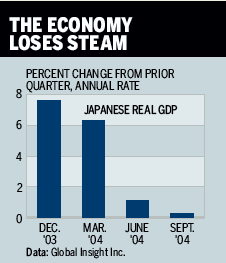 Weaker exports and corporate spending mean consumers are the key to growth. Once a weak link, household spending grew 3.7% in the third quarter. The jump was due in part to hot summer weather, which led to a rush to buy air conditioners, as well as brisk sales for televisions ahead of the Olympics.
There are reasons to believe consumers can keep spending. Consumer confidence rebounded to 47.7 in October and remains close to the 13-year high of 49.2 in August. The labor market is also stabilizing. Job growth was up 0.5% from a year ago in September, although most of the gains came from part-time hires.
However, it does not appear that the consumer rebound is truly self-sustaining. There is still a divergence in compensation between the service sector and manufacturing, with only the latter seeing gains in wages and bonuses. Therefore, a turnaround in exports and capital spending will be required to avoid a backslide in factory wages and prevent Japan's economy from stalling out.
By James Mehring in New York
Before it's here, it's on the Bloomberg Terminal.
LEARN MORE