U.S.: And You Thought The Recovery Was In Trouble
A surprisingly sunny jobs report and easing oil prices will bolster growth
Maybe the economy this winter won't be so cold after all. The Labor Dept.'s news that the labor markets generated 337,000 new jobs in October, along with much larger gains in August and September than were reported earlier, suggests consumers are in better shape to withstand higher oil prices and the waning warmth from tax cuts and lower interest rates. More important, the job data relieve recent worries that the recovery might not be sustainable.
One upshot: More interest-rate hikes by the Federal Reserve are on the way. To no one's surprise, the Fed raised its target rate by a quarter-point, to 2%, on Nov. 10, the fourth such rise in as many meetings. And given the job surge, another quarter-point boost at the Fed's Dec. 14 meeting is likely, after speculation that policymakers would pause during their "measured" pace of tightening. The Fed's Nov. 10 statement offered no hint of a break in its pattern of hiking rates at each meeting. In fact, the Fed sounded slightly more upbeat on the economy and the labor markets than it did after its Sept. 21 meeting.
The outlook is not only benefiting from firmer job markets but also getting a lift from the quick end of the hard-to-predict Presidential election. That relieved some uncertainty over tax policy and economic growth, which had clouded decisions by investors and businesses. The stock market has already shown its approval.
More good news has come from the commodity markets. Crude oil has remained below $50 per barrel for most of November. And the runup in gasoline prices might well be over, having fallen short of the average $2.06 peak reached in May. Prices dipped in early November to just over $2 per gallon, after holding at just over $2.03 in the previous three weeks. Based on historical patterns, gas prices are about where they should be with crude oil a bit below $50 per barrel.
To be sure, the economy still faces chill winds. Growth is slowing to a more moderate pace because of the Fed's rate hikes and the lack of new fiscal stimulus. The drag from costlier oil has not been fully felt, especially given fears that heating-oil supplies could be inadequate this winter. And uncertainty still surrounds the U.S. role in Iraq, the federal budget deficit, and the dollar. Nonetheless, stronger labor markets will provide crucial support for future growth.
THE EMPLOYMENT DATA BRIGHTEN the outlook in part because they put an end to the questions about why a healthy economy, which grew consistently above its historical average for six quarters in a row, wasn't creating many new jobs. Past reports of weak-looking payroll gains also contradicted news that income from wages and salaries was making good headway and that consumer spending remained resilient. Moreover, this year's slowdown in productivity gains was looking like a bad omen for economic growth because it didn't seem as if job increases were taking up the slack. These worries were only heightened by the press coverage of the contentious Presidential election.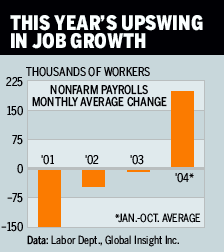 But perceptions can change quickly. Before Labor's Nov. 5 report, job gains seemed to have averaged 101,000 per month since May, when higher gas prices began to eat into consumer demand and to raise caution among businesses. Now the data show payroll growth in the past five months averaged 171,000, and the monthly pace so far this year is up to 198,000. That's clearly fast enough to keep up with the growth in the labor force and to ensure unemployment stays on its downward trend begun in June, 2003. The new data also explain why Presidential hopeful John F. Kerry could not gain much political traction on the issue of the economy.
IT'S ALSO CLEAR THAT the September hurricanes substantially depressed that month's job growth. October payrolls got a big boost, as many affected workers returned to their jobs and as post-hurricane reconstruction got under way. Construction employment increased by 71,000 last month, after gains from January to September averaged only 19,000 per month. But even if the post-storm boost to payrolls was more than 100,000 workers, the October advance was impressive, especially since Labor revised August and September payroll gains upward by 113,000 jobs.
The one disappointment in October's job data was the second monthly loss of manufacturing jobs. Factory payrolls shrank by 14,000 in September and by an additional 5,000 in October. Plus, there was a second straight decline in the factory workweek.
That combination suggests some paralysis on the part of manufacturers -- perhaps reflecting concerns about how higher energy costs will affect demand this winter. In recent months many businesses also have shown increased reluctance to build inventories, a pattern that has taken some of the steam out of factory orders and production. However, strong hiring outside of manufacturing assures solid income growth in coming months that will support overall demand.
INDEED, LABOR MARKETS are tightening up at a smart enough pace to generate faster growth in hourly pay. Average hourly earnings of production and nonsupervisory workers rose 0.3% in October from September, and the growth from a year ago has accelerated, from 1.6% earlier this year to 2.6% in October. Over the past six months the annual rate is running at 3.1%.
Pay gains are once again outpacing inflation. That helps explain why consumer spending got off to such a good start this quarter. In October retailers said their same-store sales grew, on average, 4% from a year ago. Car sales, which were expected to fall off sharply from September's incentive-boosted annual rate of 17.5 million vehicles, held up at a strong 16.9 million pace.
The faster growth in jobs also confirms that this year's smaller productivity gains are just following the slowdown trend that occurs when economic recoveries gain traction. Output per hour among nonfarm businesses grew at only a 1.9% annual rate from the second quarter to the third. Based on historical patterns, that's not a bad showing, but it's far below the 4.5% quarterly average racked up over the previous two years.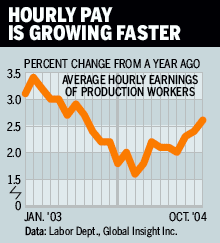 Productivity will moderate further in the coming year. Unlike earlier in the recovery, when demand was growing much more slowly, businesses need to hire more workers to fill orders and boost output. In the first seven quarters of the recovery, companies were able to lift output by 4% annually while cutting jobs and hours by 0.8%. Over the past year, companies have boosted their output by 4.6%, but jobs and hours grew 1.5%. Primarily as a result of that swing in labor input, productivity growth has slowed, from 4.8% in the first period to 3.1% in the past year.
The dip in productivity growth holds both good news and bad. For corporations, it means tighter profit margins and slower earnings growth. But for workers, as the October job numbers show, it means new jobs and better wages. In the end, this shift toward more labor income will matter more for a sustainable recovery.
By James C. Cooper & Kathleen Madigan
Before it's here, it's on the Bloomberg Terminal.
LEARN MORE