Well before Election Day, review copies of 2005 tax guides began piling up on my desk. Publishers didn't need to know which way Ohio went to know that confusion, annoyance, and despair over changing tax rules are permanent engines of the U.S. economy by driving sales of tax books and tax advice, not to mention investments that avoid taxes.
President George W. Bush is vowing to make permanent his first-term tax cuts and overhaul the Internal Revenue Code. Yet it's hardly a stretch to suggest that taxpayers will keep seeking ways to lower their tax bills. Even as the President renews his oath of office in January, the Treasury will be embarking on record-high quarterly sales of the bills, notes, and bonds it must float to finance this year's budget gap. So you can safely bet that pressure to find revenue will remain intense. That's why there's still promise in any company offering advice on how to avoid taxes or selling such specialized financial products as "tax-aware" mutual funds. With that in mind, I've been focusing on a trio of public companies (table):
-- Eaton Vance. This Boston-based investment manager has long marketed its mutual funds and advisory services by focusing on total, after-tax investor returns. For example, the company offers a host of municipal-bond funds aimed at investors threatened by the alternative minimum tax, plus stock funds that are managed to minimize taxable distributions. It has been a winning strategy for Eaton Vance (EV ). Not including those picked up in acquisitions, assets grew 35% during the past three years. In the fiscal year ended on Oct. 31, Wall Street estimates that earnings per share grew almost 30%, to $1.97. Eaton Vance has nearly three times as much in cash and short-term investments as it does debt.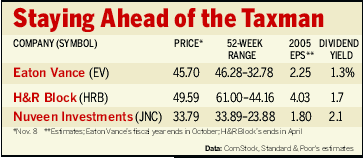 -- Nuveen Investments. Nuveen (JNC ) once focused so purely on municipal bonds that the Nuveen name became synonymous with tax-exempt. That has changed markedly with the addition of such stock-picking firms as $10 billion-in-assets Rittenhouse, which the Chicago company bought in 1997. Still, of Nuveen's $107 billion in assets under management, $56 billion remain in tax-exempt investments. In the past year overall assets grew 19%; through the year's first three quarters, earnings grew 16%, and Wall Street expects earnings per share this year of $1.62. Longer term, Nuveen sees earnings growing at 10% to 12%. Net debt comes to $136 million; operating cash flow runs more than $200 million a year.
-- H&R Block. With tax simplification a top priority in Washington, shares in tax preparer and lender H&R Block (HRB ) would seem set to suffer. Perhaps, but at $49.59, the stock is 19% off its highs of earlier this year. The Kansas City company's mortgage business got hurt by rising rates in the fiscal first quarter, ended July, squeezing margins. But in the fiscal year's second half, Block expects the mortgage segment's margins to widen again as terms of its interest-rate hedges turn favorable. Meanwhile, Block's mainstay tax-services operations keep attracting some 16 million taxpayer-clients. The stock shrugged off a Nov. 8 regulatory charge that its brokerage unit fraudulently sold Enron bonds.
The President and his fellow Republicans in Congress may succeed in holding taxes steady while reforming the tax code. But promises on taxes are notoriously hard to keep, as Bush's father learned and Bill Clinton proved again by raising taxes in his first term instead of delivering on a vow to cut middle-class rates. If precedent holds, it won't be publishers of tax-help books alone who benefit.
Before it's here, it's on the Bloomberg Terminal.
LEARN MORE