Poker: A Winning Hand For WTP?
By Gene G. Marcial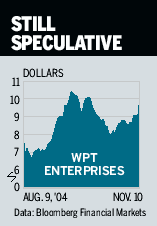 Poker, anyone? The game has come into America's living rooms through the World Poker Tour show, produced by WPT Enterprises (WPTE ) and aired on the Travel Channel. Poker on TV isn't the only way to play the game. Some big investors are betting on WPT stock. On Nov. 10 the stock jumped more than 10%, to 9.95, on heavy volume after CEO Lyle Berman presented an upbeat outlook at a small-cap conference in New York. Mario Gabelli, who heads Gabelli Asset Management (GBL ), owns shares. "It's a smart bet," he says, on a young gambling outfit. Poker's popularity is gaining, he adds, in part because of the televised tours, which produce most of WPT's revenues. The tours have the potential to become a big hit in casinos and on the Internet, says Gabelli. He warns that WPT is a speculative bet, and investors "should not go all in."
Dennis Nielsen of investment firm Feltl, which took WPT public in August at 8 a share, rates it speculative buy. WPT is expanding the World Poker Tour concept into a brand, he says, to produce revenues not only from licensing but also from sales of poker products, and corporate sponsorships. This year, he sees WPT earning 4 cents a share on sales of $14.6 million and 8 cents in 2005 on $18 million, vs. a 4 cents loss in 2003 on $4.3 million. Although WPT sports a rich price-earnings ratio, it has potential for rapid growth -- plus the cash to capitalize on varied opportunities, says Nielsen.
Note: Unless otherwise noted, neither the sources cited in Inside Wall Street nor their firms hold positions in the stocks under discussion. Similarly, they have no investment banking or other financial relationships with them.
See Gene on Fridays at 1:20 p.m. EST on CNNfn's The Money Gang.
Before it's here, it's on the Bloomberg Terminal.
LEARN MORE