Germany: A Rising Euro Hobbles Growth
For much of 2004, Germany, the euro zone's largest economy, has seen a split between solid export gains and slow domestic demand. Heading into 2005, German consumers will very likely continue to wrestle with high fuel prices and weak labor markets. Now, however, export growth is also at risk, due to a rising euro.
The latest data show that the German economy has slowed in the second half. Growth in real gross domestic product was weak in the third quarter, and the monthly numbers suggest the fourth quarter will also disappoint. The purchasing managers' index in October fell by more than expected, with lower readings on output, new orders, and export demand. The ZEW index of business expectations in November fell for the fourth month in a row, to 13.9, its lowest level in two years.
For consumers, the labor markets remain a major concern. The number of jobless rose 12,000 in September, and the unemployment rate stayed at a 5 1/2-year peak of 10.7%. High energy prices are another drag on household spending. Retail sales fell in two of the three months of the third quarter, and October sales are expected to be down as well when the official data are released in early December.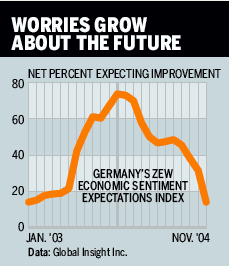 In the meantime, expectations for export growth are dimming because of the record surge in the euro. In September exports rose by 1.2%, but that followed a 1.6% decline in August. Since May the euro has jumped some 9%, to a rate of $1.29 to the euro. At the same time, higher oil prices have curtailed global growth, which is weakening demand for German goods. An exchange rate above $1.30 to the euro is seen as especially troubling, but the level looks inevitable given that the U.S. has done little to narrow its current account deficit and given recent statements from the European Central Bank, which suggest it could hike rates in early 2005.
On Nov. 2, the International Monetary Fund cut its 2005 forecast for growth in Germany. The IMF now expects German real GDP to grow 1.5%, instead of the 1.8% projected earlier this year. If brought to fruition, the IMF forecast would put Germany dead last in growth among the 12 members of the euro zone.
By James C. Cooper & Kathleen Madigan
Before it's here, it's on the Bloomberg Terminal.
LEARN MORE