U.S.: Corporate Profits: The Squeeze Is Already On
Rising compensation and low pricing power will combine to shrink margins
The stock market voiced its approval on the Nov. 3 news that President George W. Bush won re-election. However, investors may have been reacting as much to the lifting of election uncertainty as to the Bush victory per se. Now, the focus can shift back to economic fundamentals. The most important: Forces already in play will put some strain on corporate earnings in 2005.
Chief among them is the squeeze from compensation growth, including benefits, which is coming at a time of low pricing power and slower growth in productivity. That means profit margins are set to shrink over the course of next year, and that would be the case no matter who's in office. That's not to mention moderating economic growth, higher borrowing costs as interest rates rise, less favorable global factors, new rules requiring expensing of stock options, and the expiration of a key depreciation allowance.
To be sure, the trend in corporate profits may seem insignificant compared with other economic challenges in the coming year. Boosting employment opportunities, battling the huge federal deficit, and narrowing the massive current-account gap in an orderly way will all be top economic issues at the White House.
But Bush II's success at managing these risks will depend greatly on an economy that is growing at a solid pace. And any new squeeze on margins and earnings could go a long way in determining overall demand, job growth, inflation, interest rates, and the attractiveness of U.S. financial assets to foreign investors.
UNDER THE BUSH ADMINISTRATION, corporate profitability has enjoyed a heady run, reflecting the uplift from both the business cycle and certain tax policies. After falling in 2001, operating earnings per share for the companies in the Standard and Poor's (MHP ) 500-stock index skyrocketed to a peak yearly increase of 26.3% in the first quarter of 2004. Now, although profits for the third quarter are expected to be up some 16% from a year ago, the earnings slowdown has begun.
Profits will have to battle the business cycle and the waning stimulus from past low interest rates and tax cuts. Real gross domestic product grew 4.4% in 2003, and growth is averaging 3.8% so far in 2004, including the Commerce Dept.'s report of a 3.7% gain last quarter. In 2005, however, real GDP growth will likely slow close to its long-run trend of about 3% to 3.5%, especially given that higher energy costs will cut into demand this winter.
Meanwhile profit margins, the amount earned from each unit sold, appear to have topped out at a high level, and from now on are set to shrink. As a result, 2005 will present a double whammy for earnings. Lower margins place more pressure on businesses to increase earnings from stronger top-line revenue growth. But as the economy slows, faster growth in revenues is unlikely.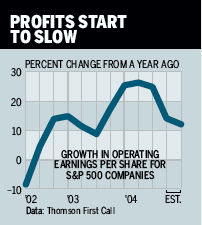 Margins are in a vise partly because productivity growth has slowed sharply. After averaging a bracing 5.7% per quarter in 2003, output per hour will struggle to an average 2% gain this year, especially in light of a weak third-quarter showing.
Although job growth has not been strong, payrolls and hours worked are no longer falling as they had been for nearly three years. A modest pickup in job growth will cut into productivity gains.
Plus in the coming year, labor compensation is unlikely to slow further -- and may well grow faster. Even tepid job growth means the labor market is tightening, albeit at a gradual pace. With the unemployment rate down nearly a percentage point since June, 2003, businesses have to compete more for workers with the skills they need. And that generally leads to upward pressure on pay.
THAT MAY ALREADY BE HAPPENING. Hourly wages and salaries, as measured by the employment cost index, increased at a 3.5% annual rate in the third quarter, the largest quarterly rise in a year. In addition, a survey by Watson Wyatt Worldwide (WW ), the human resource consulting firm, shows that while companies are raising the bar for incentive pay, they plan merit raises averaging 3.4% in 2005, up from 3% in 2004. The upshot is that unit labor costs are turning up after a three-year downtrend. Unless prices grow just as fast, margins must fall.
But so far, reports of increased pricing power have been spotty across industry groups and concentrated in the business-to-business markets for materials and semi-finished products. Excluding the gyrations in energy and food prices, core producer prices for intermediate goods are up 7.8% from a year ago, but core finished goods prices have risen only 1.9%. That's up from near-deflation a year ago, but it's no faster than in the late 1990s, which were a time of falling profits and margins.
Further downstream, consumer prices remain under pressure. Price increases outside of fuel and food actually slowed last quarter after a small pickup in the spring. The core price index for personal consumption expenditures rose at an annual rate of 0.7% from the second quarter to the third, the smallest quarterly gain in 40 years. Over the past year, the inflation rate is only 1.5%. In 2005, global competition, the chief factor holding back pricing power, will continue to limit price hikes domestically.
One possible plus for labor costs next year is that companies may get a handle on their medical expenses even before Congress and the White House sit down to discuss what to do about health care. The growth in benefit costs slowed for the second quarter in a row. Benefits, which surged at a 10.9% annual rate in the first quarter, grew 7.1% in the second quarter and only 4% in the third. A big reason why: The Labor Dept. said that health-care costs rose 7.3% over the past year, down from a 10.1% yearly pace this time last year.
OTHER FACTORS WILL ALSO WEIGH on earnings growth in the coming year. Net interest expense in the corporate sector began to rise last year, and it will accelerate now that business borrowing is picking up and the Federal Reserve is hiking rates. After falling steadily for more than three years, commercial and industrial loans have been in a clear uptrend since spring.
Cash flow will also take a hit in 2005 as the "bonus depreciation" allowance, which was a provision in the 2002 tax package, expires at the end of 2004. Estimates suggest the allowance will add some $60 billion to profits this year, but earnings will lose that lift in 2005. Companies will also have to begin counting stock-option grants as an expense against current revenues.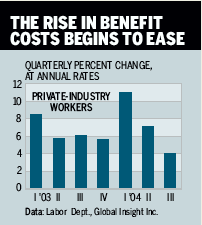 Outside the U.S., the earnings climate will be less attractive as well. Overseas operations are sure to suffer as global growth recoils from the impact of higher oil prices. Moreover, the trade-weighted dollar is now higher than it was at the start of the year. Unless the greenback weakens, foreign earnings will not get much of a benefit when they are translated back into dollars.
To be sure, Corporate America will still make money in the coming year. Plus, companies are sitting on a cash hoard of historic proportions. But earnings are set to slow, perhaps considerably. How businesses and Wall Street react to that will make the policy decisions of the second Bush Administration all that more important.
By James C. Cooper & Kathleen Madigan
Before it's here, it's on the Bloomberg Terminal.
LEARN MORE