For all the talk on golf courses about investments, investing in the game itself has proved no gimme. Sales of golf gear at a trio of big players -- Adidas-Salomon, Fortune Brands (FO ), and Nike (NKE ) -- make up modest parts of their total. Purer plays tend to be micro caps. So investors have tended to focus on Callaway Golf (ELY ).
Lately that move has caused them dismay. Shares of Callaway, a leading maker of clubs, balls, and sundry golf stuff, have been sliced nearly in half, to under $11, since spring. The culprits? Write-offs following its 2003 purchase of rival gear maker Top-Flite Golf, for one. But the worst was sales of its drivers as Adidas' TaylorMade r7 quad took pro shops by storm. So far this year net income has fallen 77%, despite an 18% rise in sales, as Callaway slashed prices to move goods.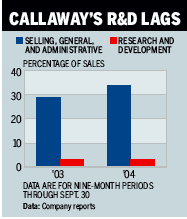 Despite its stumble, Callaway to me looks better than you might expect. The Carlsbad (Calif.) company's balance sheet and cash flow are in reasonable shape. What's more, even though a spokesman told me flat out that the company has no plan to prepare itself for a sale, I suspect odds of such an outcome are growing. One reason: The board in August installed its longest-serving member, William Baker, as CEO. He quickly froze product introductions while he studies the business. He also decided to quit giving earnings guidance.
SO INVESTORS ARE SCRATCHING their heads trying to discern Callaway's future direction and earnings. Although Callaway enjoys a reputation for innovation, research and development spending has run flat lately even as overhead has grown. The recent signing of current Masters champ Phil Mickelson to a multiyear endorsement contract worth $7 million to $10 million a year plus possible bonuses and stock likely swelled its selling costs. He joins ladies' tour pro Annika Sorenstam as the top Callaway endorsers. Just the same, through 2004's first three quarters, operations generated cash flow of $46 million. That's down from $140 million the previous year, but even after capital spending, acquisitions, share repurchases, and 7 cents-a-share quarterly dividends, operations still created more cash than the company used. The balance sheet, with $67 million in cash, is unburdened by debt. Meanwhile, the company says retailers' inventories now are pretty well cleared.
It's in even better shape -- low stock price, resilient cash flows, and lean balance sheet -- to attract one of the umpteen private-equity funds hunting for companies to buy. Another possible buyer is an industry rival. Antitrust objections would likely scotch a purchase by Adidas or Fortune Brands. Nike, with smaller market shares, may be more likely. A Nike spokeswoman told me the company never discusses market speculation about deals. Also, Nike traditionally has focused on building its own brands. More recently, its purchases of Converse sneakers and teen-apparel maker Hurley International, which run on a long leash to maintain their brand identities, have signaled a broader strategy. With a stock-market value near $700 million, Callaway would be a small bite for Nike, which generates $1.5 billion a year in cash.
There's one more reason I suspect the odds of a deal for Callaway have grown: the choice of Bill Baker as CEO. Baker built the Del Taco restaurant chain, then sold it in 1988. Later, he helped to lead the La Quinta (LQI ) real estate investment trust through a series of deals. Now 71, he let Chief Financial Officer Brad Holiday do most of the talking during an Oct. 19 conference call with stock analysts. The Callaway board has hired no executive-search firm to find his replacement. Baker told the analysts: "I will be the CEO of this company for the foreseeable future." Just how long that will be, he didn't say.
Before it's here, it's on the Bloomberg Terminal.
LEARN MORE