Britain: Pop Goes The Housing Bubble
The Bank of England appears to be getting its wish -- and then some. Five quarter-point hikes in interest rates, to a three-year high of 4.75%, have pricked Britain's housing bubble and cooled off the economy. In fact, the air is coming out faster than expected, and economic growth has slowed sharply.
Preliminary data show that real gross domestic product in the third quarter grew by a slim 1.5% annual rate from the previous quarter, far below the second quarter's 3.7% gain. Last quarter's pace, which included the largest decline in industrial output in nearly three years, was the slowest in 1 1/2 years. In August, the BOE predicted 3.6% growth in both the third and fourth quarters.
Last quarter's sudden slowdown reflected more than just weaker industrial output. By all measures, Britain's five-year housing boom, which saw house prices double, has come to an end. The BOE reported that mortgage lending in September posted the smallest increase since April, 2003, and that mortgage approvals fell for the fourth month in a row.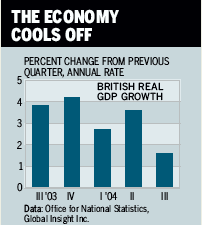 Meanwhile, after growing 25% in 2002 and 15% in 2003, house prices have all but stopped rising. The housing boom and jump in home equity loans have left households with more than 1 trillion pounds ($1.8 trillion) of debt, equivalent to nearly 95% of Britain's GDP.
Signs of weaker consumer demand are already cropping up. Although official retail sales data through September remain solid, consumer confidence has fallen, and surveys of retailers show weaker readings than earlier in the year. Economists generally expect slower household spending to lead to another subpar gain in real GDP in the fourth quarter.
For 2005 growth, much depends on how fast the house-price bubble deflates. Most analysts expect a gradual adjustment. But as consumer spending slows, other sectors will have to take up the slack. For now, capital spending is on firm footing, amid healthy corporate cash flow, but the extent of the slowdown in household spending could affect future outlays and hiring. Also, with global growth cooling due to higher oil prices, export growth may ease. Clearly, the BOE has set the stage for slower growth next year.
By James C. Cooper & Kathleen Madigan
Before it's here, it's on the Bloomberg Terminal.
LEARN MORE