An All-Out Drive For Defense Deals
EADS has a real chance to become a global contender, even in the U.S.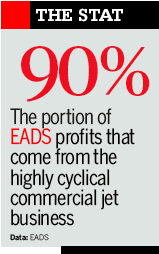 For European Aeronautics Defense & Space Co., the timing could hardly be worse. After tearing up a scandal-tarred $23.5 billion deal to lease refueling tanker planes from Boeing Co. (BA ), the U.S. Air Force is mulling whether to seek a new round of bids for the project as early as next year. That's just the kind of juicy U.S. defense contract that Europe's biggest aerospace group has long coveted. Indeed, EADS Co-Chief Executive Philippe Camus calls it "the biggest opportunity we've had until now."
So what's wrong? Just weeks after the Boeing deal was ditched, a U.S.-European trade brawl erupted over aircraft subsidies. And EADS, 80% owner of European jetmaker Airbus, is in the middle of the fight.
With that kind of luck, can EADS ever become a global contender in the defense business? Surprisingly, the answer may be yes. Over the past few months, EADS has racked up some impressive defense deals, including one where it beat out a consortium including Boeing and Britain's BAE Systems PLC to supply up to $24 billion of tanker planes to Britain's Royal Air Force. While financial details of that contract are still being hammered out, EADS already has won a separate $1.5 billion tanker deal with Australia's air force. The tankers will be modified versions of the Airbus A330.
EADS also is making targeted foreign acquisitions. On Oct. 6 it bought defense electronics company Racal Instruments, based in Irvine, Calif., for $130 million. It also has won contracts to supply radar equipment to the U.S. Navy and aircraft to the U.S. Coast Guard. Such deals helped EADS triple its defense order backlog over the past three years, to $57 billion. Its first-half defense sales were $3.4 billion, up 11% from last year.
Those numbers pale beside the order books of U.S. giants such as Boeing, which on Oct. 27 reported a surge in profits fueled by defense sales of $22.8 billion during the first three quarters, up 14% over the same period last year. But they're helping move EADS toward its goal of reducing exposure to its highly cyclical Airbus business, which still accounts for two-thirds of the company's $39 billion revenues.
WISHFUL THINKING?
To cushion itself, EADS has to crack the U.S. defense market, by far the world's largest. Four years after it was formed through a merger of French, German, and Spanish aerospace groups, EADS still logs only $500 million in annual defense sales to the U.S. That's why it's hungrily eyeing the refueling plane deal. To defuse political opposition, EADS says it would bid jointly with a U.S. contractor (LMT ), invest up to $600 million in a U.S. factory, and spend more than half the planes' finished value on goods from U.S. suppliers. "Everybody has something to win in a more open transatlantic defense market," Camus says.
With U.S.-European tension over Iraq still running high, and the U.S. complaining to the World Trade Organization that European aircraft subsidies are hurting U.S. industry, that's going to be a tough sell. If a new tanker contract were awarded today, says analyst Paul Nisbet of Rhode Island-based JSA Research Inc., "EADS's chances would be just about nil."
The good news for EADS, though, is that the Air Force may not award the contract immediately. The Air Force budget is stretched thin with higher-priority projects such as the F/A-22 Raptor and the F-35 Joint Strike Fighter. Many industry watchers think the Air Force could delay awarding a new contract for several years. By then, EADS hopes, the flap over aircraft subsidies will be over.
EADS is now sounding a more conciliatory note on the WTO dispute. Camus says the company has made no decision on whether to seek European government loans to develop a plane to counter Boeing's new 7E7. By talking softly and biding its time, EADS could win enough credibility to build a solid U.S. defense business, just like Britain's BAE, which sells $5 billion a year to the U.S. military, says Richard Aboulafia, an aerospace analyst with Teal Group, a consulting firm in Fairfax, Va. "I'm not looking for a grand slam for EADS," he says. "But they're being taken seriously in the U.S. market for the first time," Maybe the timing will work in EADS's favor after all.
By Carol Matlack in Paris
Before it's here, it's on the Bloomberg Terminal.
LEARN MORE