Not Many Chinks In Symantec's Armor
The way you would rush to the dentist about a toothache. The way you would pay anything for bug spray if, some unlucky day, you found yourself lost in the Everglades. The very happy way you would tip a cabbie who returned a wallet you left in his car. That's how too many computer users feel about Symantec (SYMC ): dependent, desperate, grateful.
Maker of the Norton-brand Internet firewall and antivirus software programs, Symantec glories in the viruses, worms, Trojan horses, and other "malware" that can torment the rest of us. Demand is so strong that Symantec expects revenues in the fiscal year ending in March to surge 33%, to $2.5 billion. It sees earnings per share jumping 44%, to $1.54. After capital spending, Symantec generated cash of $437 million in its fiscal first half -- more than twice what it produced in the year-earlier period. "This machine will produce a ton of cash," Symantec's chief financial officer, Greg Myers, told analysts on Oct. 20. Small wonder, then, that at $58 the stock is up 68% so far this year. Among software makers, only SAP (SAP ), Oracle (ORCL ), and Microsoft (MSFT ) boast higher market values.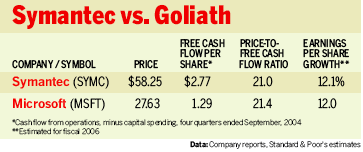 Which makes me wonder: Is Symantec ready to crash? I doubt it. Its balance sheet is strong, with cash of $2.5 billion and no debt. So are prospects for growth in demand for its software, which is due to include help soon in zapping the latest pestilence, spyware. Just the same, there are three realities about Symantec that investors need to keep in mind.
-- Slower growth. Don't expect Symantec to see again the rapid rates of growth in sales (40%) and earnings per share (62%) that it has enjoyed in the past four quarters, which were a watershed period in consumer awareness of Web-borne computer viruses. As healthy as the business remains, during the next four quarters the year-over-year comparisons will be wicked, a reality that Symantec has been quick to note as it tamps down the enthusiasm of Wall Street.
-- Questionable growth. Deducing the true growth rate of Symantec's businesses is tricky. Why? CEO John Thompson has made it clear a key to his strategy is growth by acquisition. In the past year, Symantec has bought several companies -- antispam-software provider Brightmail, for example -- but isn't disclosing how much in total revenue the purchased assets are delivering. It made an exception for its Enterprise Administration segment, which sells software for running corporate computer networks. It posted second-quarter revenue growth of 36%. Take out the contributions of two acquired units, however, and revenue sank 4%. This is no problem as long as the new units keep growing. But as too many investors have learned, every acquired asset that doesn't pay off gets written off. "Growth" can be a mirage.
-- Margin squeeze. Symantec's mix of revenues is tilting to its retail business. In fiscal 2003, consumer products made up 41% of revenue; in the latest quarter, they contributed 51%. These sales come at a lower profit margin, and so Symantec's overall gross margin is edging down. You also can count on margin pressure from a host of rivals eager for a taste of Symantec's lush life. Despite its feeble attempt to patch security flaws with this year's Windows XP Service Pack 2, mighty Microsoft remains a clear and present danger.
Given these vulnerabilities, why don't I see Symantec as wildly overvalued? Compare it to Microsoft. Symantec can look forward to somewhat faster growth than the industry leader. Yet even at its recent highs, it is trading at an equivalent, reasonable multiple of free cash flow. Like it or not, each company has a grip on our wallets.
Before it's here, it's on the Bloomberg Terminal.
LEARN MORE