Brazil: Stepping Harder On The Brakes
The Central Bank of Brazil surprised investors by hiking interest rates more than expected. The aggressive move is designed to slow the economy before inflation worsens.
On Oct. 20, the central bank lifted its target base rate by a half percentage point, to 16.75%. Analysts had projected only a quarter-point hike, similar to the increase made in September. The economy has been beating forecasts, while also boosting the popularity of President Luiz Inácio "Lula" da Silva. In the second quarter, real gross domestic product was up 5.7% from previous-year levels, even though forecasts at the start of 2004 said Brazil would grow only about 3% to 3.5%.
The momentum carried into the third quarter. Industrial production in August rose for the fifth month in a row. It now stands 13.1% above previous-year levels. Exports last quarter hit a record, thanks in part to a surge in auto shipments. Plus, the jump in production is pushing businesses to hire. Brazil's jobless rate fell to 10.9% in September, the lowest reading since the end of 2003.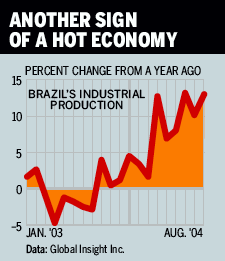 Strong demand has caused consumer prices to rise at a rate above the bank's inflation target of 5.1%, which already had been revised up. And given the continued gains in fuel prices, the bank is worried inflation will increase even faster for the rest of this year and 2005. That's why hikes at the last two policy meetings of 2004 look certain.
Critics, however, warn that the central bank may move too fast and short-circuit the recovery. Some reasons for the inflation pickup are production bottlenecks and shortages. But if companies face higher borrowing costs, they'll be less likely to invest to expand capacity. In addition, higher rates will worsen the public debt situation and draw money away from private investment. Servicing the debt already takes up about 9% of the federal budget.
What's worse, Brazil needs growth of at least 5% to create enough jobs to keep the unemployment rate from rising. The promise of such prosperity is why Brazilians elected Lula. But the central bank seems to be signaling that given a choice between job growth and curbing rapid price gains, it's ready to give up some hiring to fight inflation.
By James C. Cooper & Kathleen Madigan
Before it's here, it's on the Bloomberg Terminal.
LEARN MORE